Spotless 5″ Vintage Bookshelf Speaker
MODEL: Eternal 5.2
MSRP: $899.00
0 Import Duty
we deliver duty paid  (DDP) to certain countries
Big Discount Available
discount price up to 60% off
In Stock
we keep the products in stock to ensure fast shipping
Dropshipping
we blind drop ship to save your time and costs
Spotless Audio
LOVE AND FAITH TOGETHER
Spotless is an authentic, simple, approachable, and unpretentious brand of traditional handicrafts.
We believe in sticking to our ideas and original designs, injecting thoughts and emotions into every detail and every product, to give it more vitality. We don't strive for perfection; we strive to hold the nostalgic mood and to interpret the artisanal sentiment of age, to the old traditional handicraft works, which remind us how to listen to the years' footprints.
Whether auditory, visual, or tactile, our handicrafts will quietly wait for your heart to approach them, understand them, and feel them.
Spotless Eternal 5.2 Vintage Style Bookshelf Speaker
It is made for you who beautify the world with love. With joy, listening together!
5" Two-Way
Traditional air cushion design
Low Rendering, High Efficiency
High transient response, natural and clear sound
Art of Midrange
Infectious midrange frequency
Birch Wood Cabinet
Following the traditional materials used for musical instruments
Eternal 5.2 vintage bookshelf speaker is created based on the traditional air cushion design theory. By tweaking the speaker T/S parameters in a small cabinet to achieve reasonable low frequencies.
The cabinet is made of 14mm thick multi-layers birch wood with 45 degrees of tight splicing and traditional handcraftsmanship. The internal reinforcement makes the cabinet more robust.
The whole cabinet is polished by hand. The outer surface retains the original unique wood textures.
Eternal 5.2 vintage bookshelf speaker has high resolution and high transient efficiency. The compact cabinet is flexible for placements in various listening spaces.
This HiFi speaker is designed for listening to vocal, solo, concerto, and chamber music.
The sensitivity is not high. So it has certain requirements for the amplifier's output power and controllability. It's recommended to match an amplifier with an output power of 50W or more; a tube amplifier is better with good controllability.
Eternal 5.2 vintage bookshelf speaker is suitable for 10 to 25 square meters of listening space.
Simple mid-range art, excellent vocal playback
The fundamental sound for most instruments and vocals is the midrange. So midrange sound quality is particularly essential.
The "perceived density" of the human voice expresses far more emotion than most instruments.
The Eternal 5.2 vintage bookshelf speaker has a rich midrange density. With a beautiful tone, rich overtones, and abundant layers, it's the best speaker for you who love opera and pop music.
Crossover of Eternal 5.2 Retro Speaker
Eternal 5.2 vintage bookshelf speaker splitter uses two ERSE high-performance MPX self-healing metalized polypropylene film capacitors. This helps reduce the adverse effects of micro-phony, achieve low ESR levels and improve overall sound performance.
Four band high precision resistors make the high-frequency and low-frequency smooth segue; two sets of pure copper custom-made inductors with almost zero FM distortion make the dynamic distortion very low.
To reduce mutual interference between the inductors, we tweaked to make the adjacent inductors are perpendicular to each other in every direction. This small design has a significant impact on the sound quality.
MUSIC INTO LIFE, FULL OF EMOTION MINI SOUND SYSTEM
Life cannot be without music. Many classic works were created from real life. Naturally, they are also integrated into our lives.
Music is a part of life; all we need is music to lead our thoughts and emotions, to enjoy that comfort.
Our vitality comes from constant self-challenge
We absorb the wisdom of our predecessors. We pursue innovation and challenge, which we believe is essential.
In the full frequency range, high frequency is the most emotional part. Spotless constantly explores high-frequency solutions based on a particular understanding of low and medium frequencies.
This diaphragm has gone through a lot of hardships to complete. Its performance is very neutral; compared to other tweeter materials, it does not have that sweet as honey sound.
The resolution is not firm, but the sense of listening is perfect. The tone is simple, giving people an unfolding feeling, warm, smooth, and very listenable.
A thousand miles begins with a single step, a mountain starts with a tiny dust.
Life goes on, strive on!
Spotless firmly believes that as long as we stick to our beliefs, no matter how winding and distant the road, as long as we love, we can go farther and higher.
Stand is half-life of a bookshelf speaker.
For bookshelf speakers, audiophiles are saying that the speaker stand is the second spring for bookshelf speakers. The right match with a stand can make the speaker play well with their performance and the characters.
Spotless's original design solid steel bookshelf speaker stands can positively reduce vibrations and improve performance.
One of the essential features is to make the middle and high frequencies vivid and dynamic, rich in details, and make low frequencies clean and more bouncy.
Long-term Power
40 watts
Short-term Power
60 watts
Frequency Response
60 Hz~18 kHz
Impedance
8 OHM
Sensitivity
85dB@2.83V
Dimensions:
160*190*300 mm
Weight:
4.0 KGS/Pair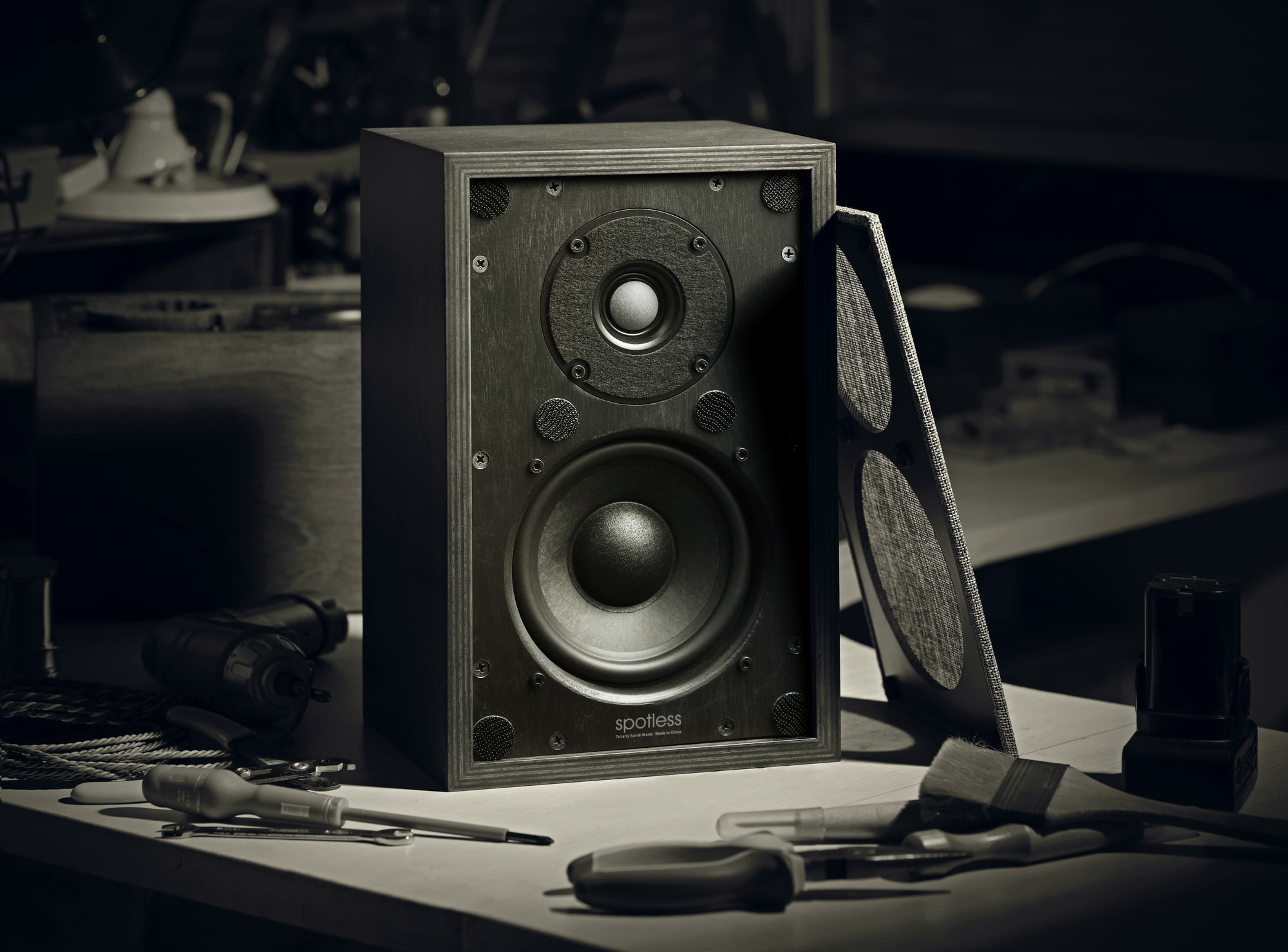 PERSEVERANCE IN CRAFTSMANSHIP.
DETERMINED TO MOVE FORWARD
With the spreading of industrialization, fast food culture is prevalent. "Hand-made" is declining. The pure skills are disappearing day by day.
The times call for "artisan spirit" — sentiment, perseverance, and responsibility.
Spotless has always insisted on handmade, which reflects the listeners' pursuit of quality, and holds the memory of a generation of nostalgia.
Spotless Audio – handmade bookshelf speakers for Audiophiles
From 2″ small bookshelf speakers to 12″ large bookshelf speakers,
we have the right size for you.