Spotless 8-inch 3 Way Speaker
MODEL: Eternal 8.3
MSRP: $1990.00
0 Import Duty
we deliver duty paid  (DDP) to certain countries
Big Discount Available
discount price up to 60% off
In Stock
we keep the products in stock to ensure fast shipping
Dropshipping
we blind drop ship to save your time and costs
Spotless Audio
LOVE AND FAITH TOGETHER
Spotless is an authentic, simple, approachable, and unpretentious brand of traditional handicrafts.
We believe in sticking to our ideas and original designs, injecting thoughts and emotions into every detail and every product, to give it more vitality. We don't strive for perfection; we strive to hold the nostalgic mood and to interpret the artisanal sentiment of age, to the old traditional handicraft works, which remind us how to listen to the years' footprints.
Whether auditory, visual, or tactile, our handicrafts will quietly wait for your heart to approach them, understand them, and feel them.
Spotless Eternal 8.3 Three Way Speaker
It is made for you who beautify the world with love. With joy, listening together!
Customized Tweeter Unit
Advanced Swiss technologies
Balanced Sound
Neutral and less sound rendering
ERSE Capacitance
Ultra-low ESR, transparent music taste
8" 3-Way Crossover
Rich sound details and a broad sound field
Birch Wood Cabinet
Following the traditional materials used for musical instruments
Eternal 8.3 Design Concept
Eternal 8.3 is a 3-way front inverted speaker. It applies Spotless's new generation speaker units to make the sound more layered. The crossover uses a 2-ounce pure copper thickness immersion gold PCB, high-quality imported capacitors, and customized inductors.
The cabinet is made of 25mm thick multi-layers birch wood. The principle is similar to the resonance of a violin. The purpose is to let the sound get a good bounce.
Spotless has always insisted that the front and rear panels be mounted with custom screws. The advantage of this design is that it allows the cabinet to have a high degree of inertia and low energy storage. So that the low frequencies breathe freely in the cabinet.
The midrange uses a closed cavity to form an independent-sounding body. The whole cabinet is polished by hand. The outer surface retains the original unique wood textures.
Eternal 8.3 3 way speaker is made up of multiple units with a sensitivity of 89dB, making it easy to drive. The three-band management gives Eternal 8.3 a natural and steady sound.
Eternal 8.3 3 way speaker is efficient and balanced, suitable for a large listening area, and for a wide range of music genres.
Eternal 8.3

Sound Performance
The transient response is fast for Eternal 8.3. The tone is neutral and transparent, with little rendering.
The high and medium frequencies are smooth, the midrange is neither too thin nor too thick. The bass is robust and powerful, and the sound field is broad and evenly energized.
As to Eternal 8.3's low-frequency performance, it has a very deep low-frequency dive.
When listening to some percussive music, it can fully demonstrate the sound of drums fast and direct, with a good sense of speed, you can feel the drums around you.
The low-frequency position is accurate, dynamic. More than that, its low-frequency controllability is also quite powerful and convincing.
When multi-instruments are played together, the layers are clear, the low-frequency dive is very deep, robust, and powerful.
An amplifier with 50W or more is recommended. A more miniature sound rendering amplifier is better.
If you like the analog taste and loose tone, you can also choose a tube amplifier.
It's suitable for 25 to 40 square meters of listening space.
MUSIC INTO LIFE, FULL OF EMOTION MINI SOUND SYSTEM
Life cannot be without music. Many classic works were created from real life. Naturally, they are also integrated into our lives.
Music is a part of life; all we need is music to lead our thoughts and emotions, to enjoy that comfort.
It's not that we never fail; we never give up. Holding firm to our beliefs, moving steadily forward, always keeping progress every day, even if it is just a little, accumulation is invaluable to us.
Story of Eternal 8.3 3 Way Speaker Development
The spring in the valley sings a beautiful song only after all the twists and turns.
The journey is more important than the result. Spotless constantly pursues innovation and challenges. With the development of the Eternal 8.3 three-way speaker, the crossover was a big challenge.
The crossover uses 2 ounces of a pure copper thickness of immersion gold PCB to achieve high-frequency signal transmission. So it's easy to solder, more conductive, and has better oxidation resistance and a longer life span.
The inductors are made of pure copper, with magnetic characteristics and almost zero FM distortion, resulting in very low dynamic distortion.
To reduce mutual interference between the inductors, we tweaked to make the adjacent inductors are perpendicular to each other in every direction. This small design has a significant impact on the sound quality.
There are two kinds of capacitors. One is ERSE high-performance metalized polypropylene film capacitor C-Cap, which uses extremely pure polypropylene and 99.99% pure aluminum conductor. This helps reduce the adverse effects of micro-phony, achieve low ESR levels and improve overall sound performance.
The other is BENNIC non-polar electrolytic capacitor, which has stable temperature, frequency, and reliability characteristics, especially the leakage current is very small, and the charge-storage capacity (CSC) is high and has a long service life.
In addition, the connection wire uses Kimber Kable, Japan ESC lead-free silver-containing solder, and UK-made speaker terminals.
Our vitality comes from constant self-challenge
We absorb the wisdom of our predecessors. We pursue innovation and challenge, which we believe is essential.
In the full frequency range, high frequency is the most emotional part. Spotless constantly explores high-frequency solutions based on a particular understanding of low and medium frequencies.
This diaphragm has gone through a lot of hardships to complete. Its performance is very neutral; compared to other tweeter materials, it does not have that sweet as honey sound.
The resolution is not firm, but the sense of listening is perfect. The tone is simple, giving people an unfolding feeling, warm, smooth, and very listenable.
A thousand miles begins with a single step, a mountain starts with a tiny dust.
Life goes on, strive on!
Spotless firmly believes that as long as we stick to our beliefs, no matter how winding and distant the road, as long as we love, we can go farther and higher.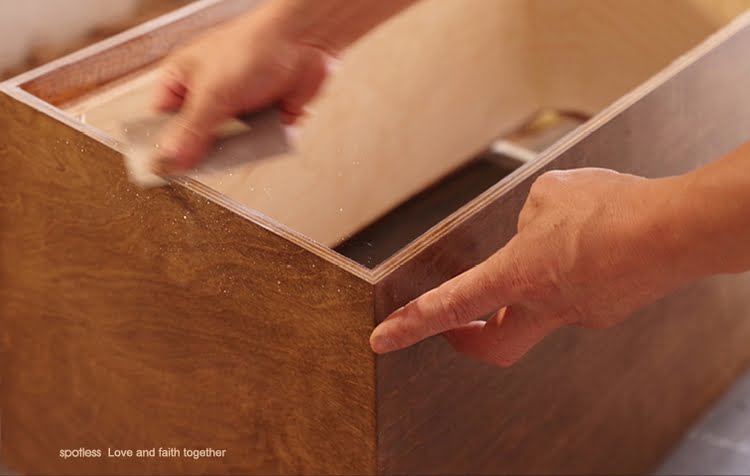 Stand is half-life of a bookshelf speaker.
For bookshelf speakers, audiophiles are saying that the speaker stand is the second spring for bookshelf speakers. The right match with a stand can make the speaker play well with their performance and the characters.
Spotless's original design solid steel bookshelf speaker stands can positively reduce vibrations and improve performance.
One of the essential features is to make the middle and high frequencies vivid and dynamic, rich in details, and make low frequencies clean and more bouncy.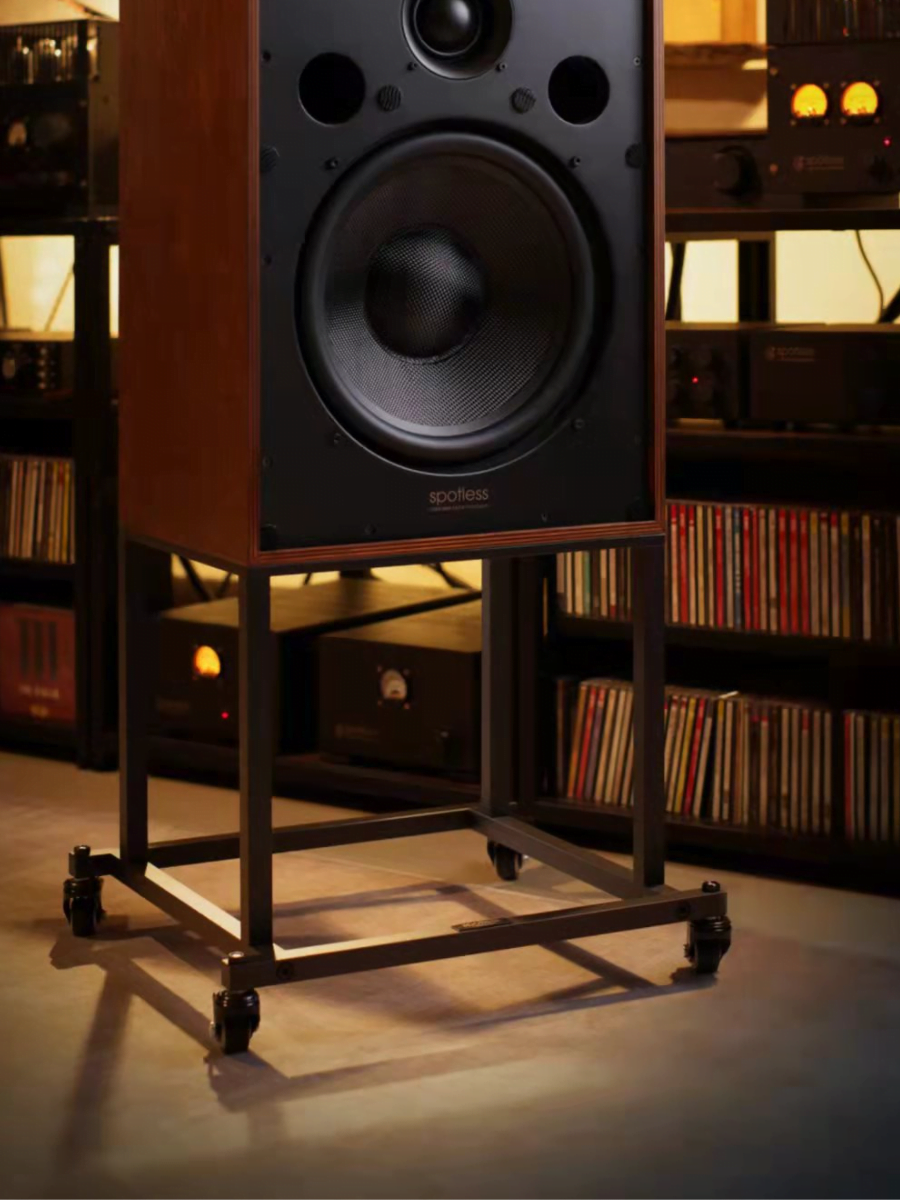 Long-term Power
70 watts
Short-term Power
120 watts
Frequency Response
32 Hz~20 kHz
Impedance
4 OHM
Sensitivity
89dB@2.83V
Dimensions:
300*300*640 mm
Weight:
37.5 KGS/Pair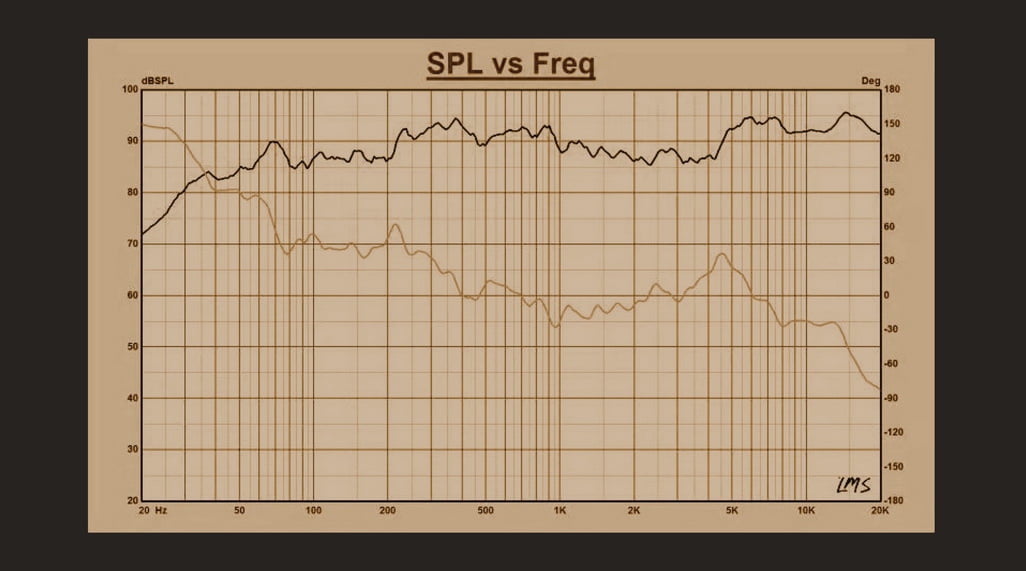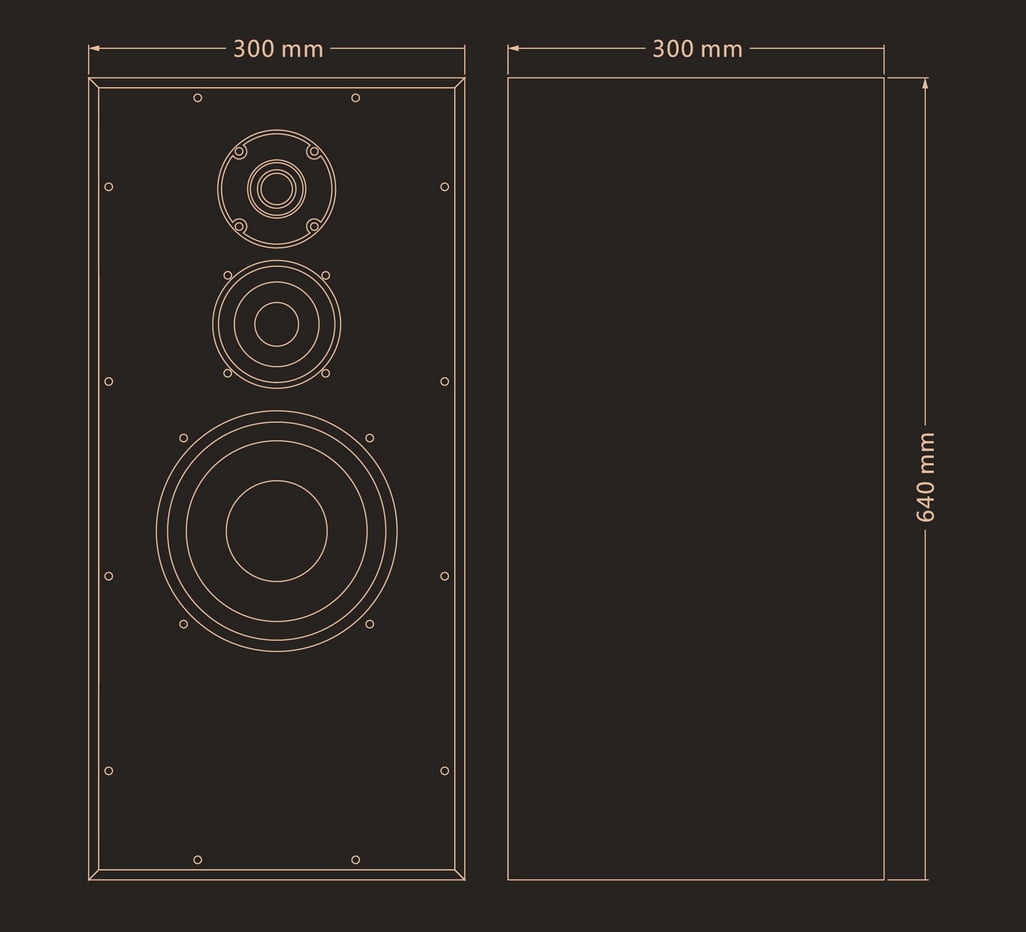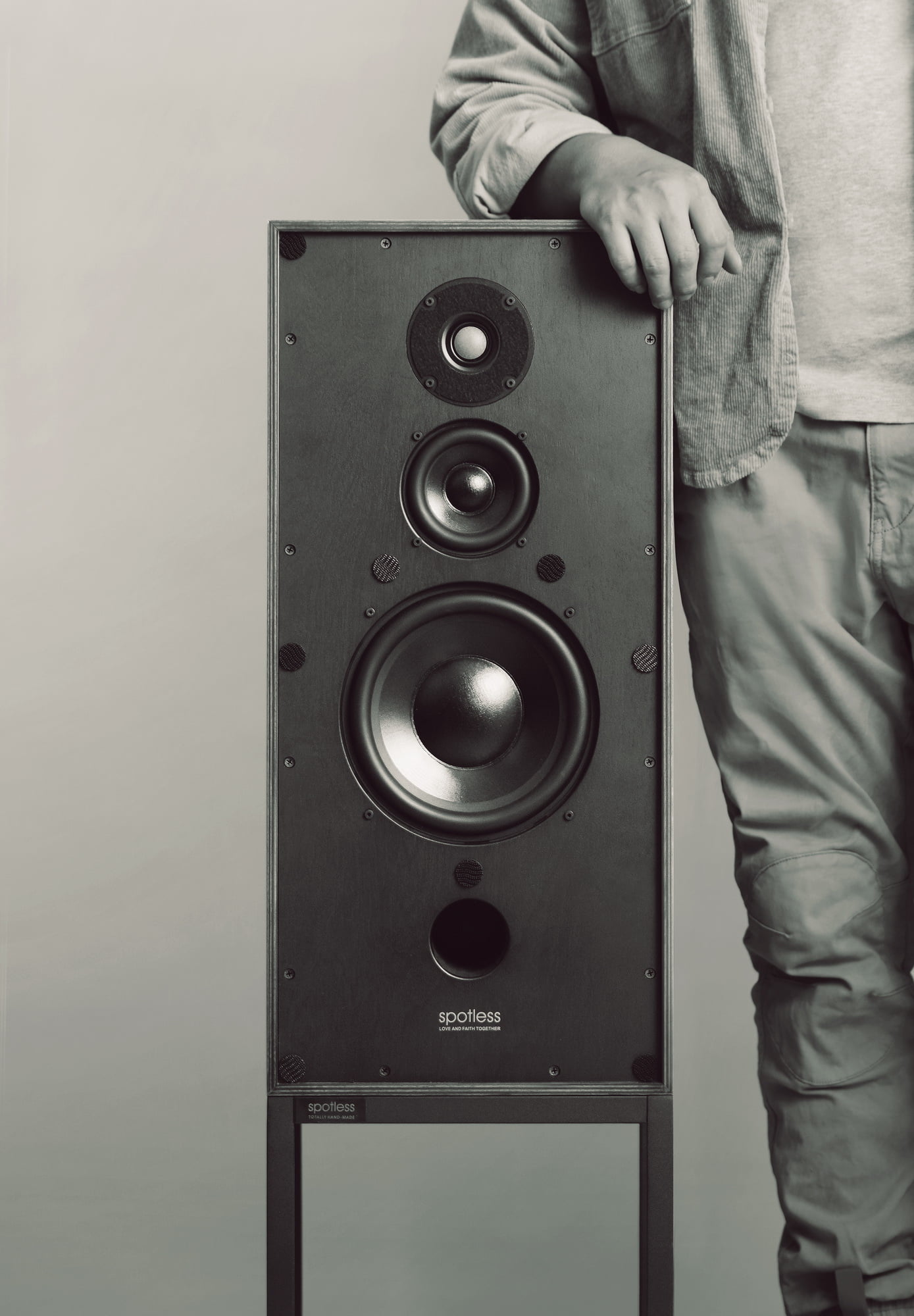 PERSEVERANCE IN CRAFTSMANSHIP.
DETERMINED TO MOVE FORWARD
With the spreading of industrialization, fast food culture is prevalent. "Hand-made" is declining. The pure skills are disappearing day by day.
The times call for "artisan spirit" — sentiment, perseverance, and responsibility.
Spotless has always insisted on handmade, which reflects the listeners' pursuit of quality, and holds the memory of a generation of nostalgia.
Spotless Audio – handmade bookshelf speakers for Audiophiles
From 2″ small bookshelf speakers to 12″ large bookshelf speakers,
we have the right size for you.