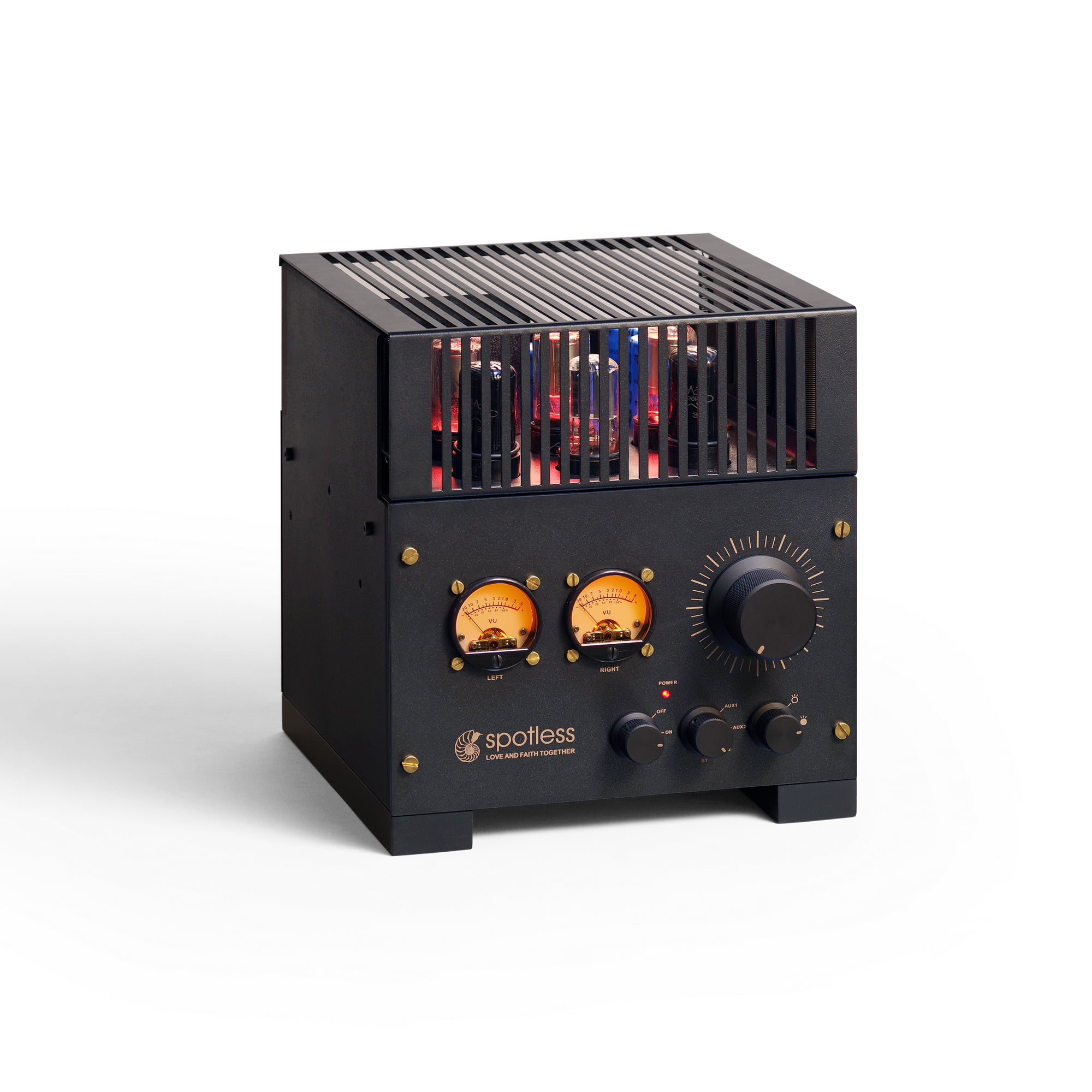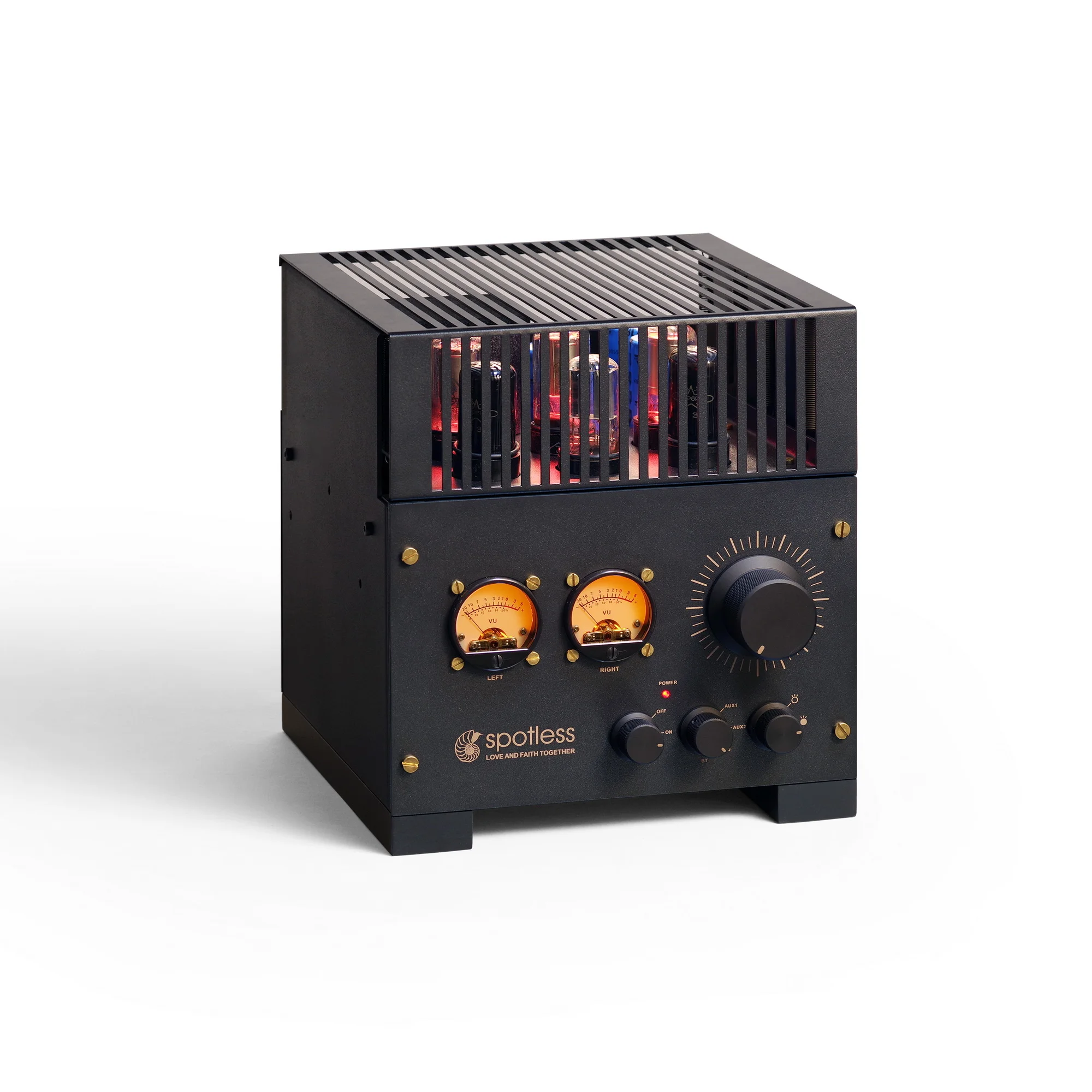 Spotless A1 Amplifier Tube Integrated 100W
MODEL: SPOTLESS A1
MSRP: $1499.00
0 Import Duty
we deliver duty paid  (DDP) to certain countries
Big Discount Available
discount price up to 60% off
In Stock
we keep the products in stock to ensure fast shipping
Dropshipping
we blind drop ship to save your time and costs
Spotless Audio
LOVE AND FAITH TOGETHER
Spotless is an authentic, simple, approachable, and unpretentious brand of traditional handicrafts.
We believe in sticking to our ideas and original designs, injecting thoughts and emotions into every detail and every product, to give it more vitality. We don't strive for perfection; we strive to hold the nostalgic mood and to interpret the artisanal sentiment of age, to the old traditional handicraft works, which remind us how to listen to the years' footprints.
Whether auditory, visual, or tactile, our handicrafts will quietly wait for your heart to approach them, understand them, and feel them.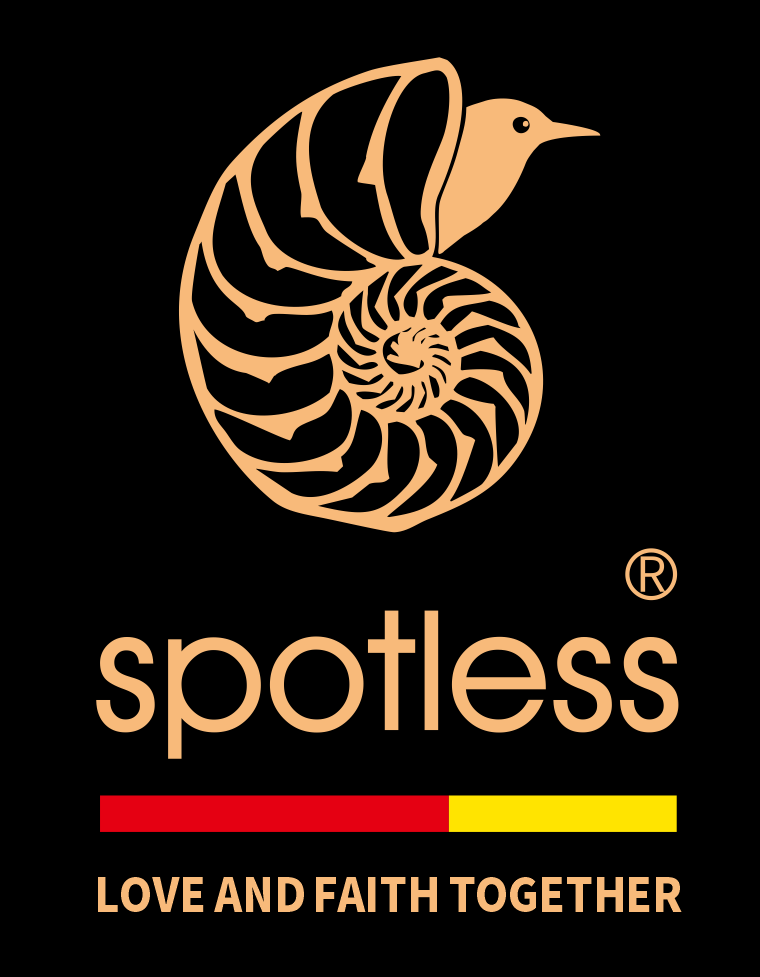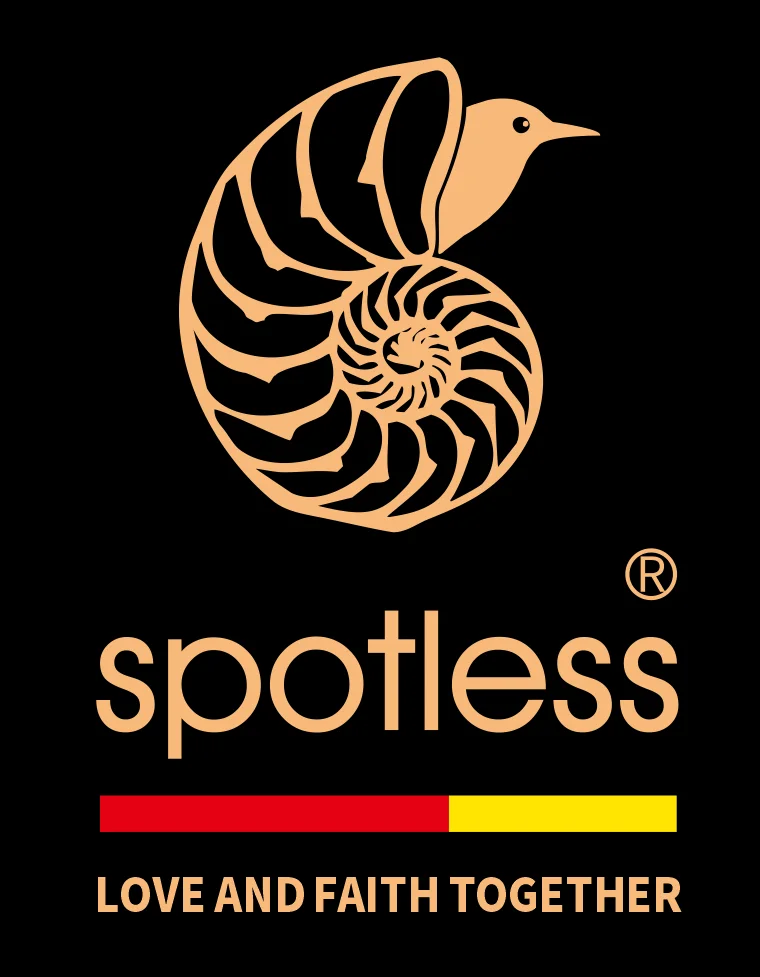 Spotless A1 bookshelf speaker amplifier
Flagship amplifier of 2021
The strongest playback system to date. It is made for you who beautify the world with love. With joy, listening together!
Original Preamp Suspension System
To reduce physical and sonic vibrations. Patented innovation for acoustic sound.
Exclusive Power Transformers
Using two transformers, a preamp, and a poweramp independent power supply. Natural and balanced sound with a charming analog flavor.
Wireless Connection
Bluetooth 5.1 technology
CSR8675+ESS9018 decoding
Support LDAC, APT-X
High Power
100W (8 ohms per channel)
Sound performance is steady with a broad field.
Vintage Appearance
Iron hand-painted cabinet.
Dual VU meters design.
Tailor-made solid aluminum knobs.
HIGH-END COMPONENTS
VISHAY koa resistor VISHAY bc
Panasonic capacitor ON transistor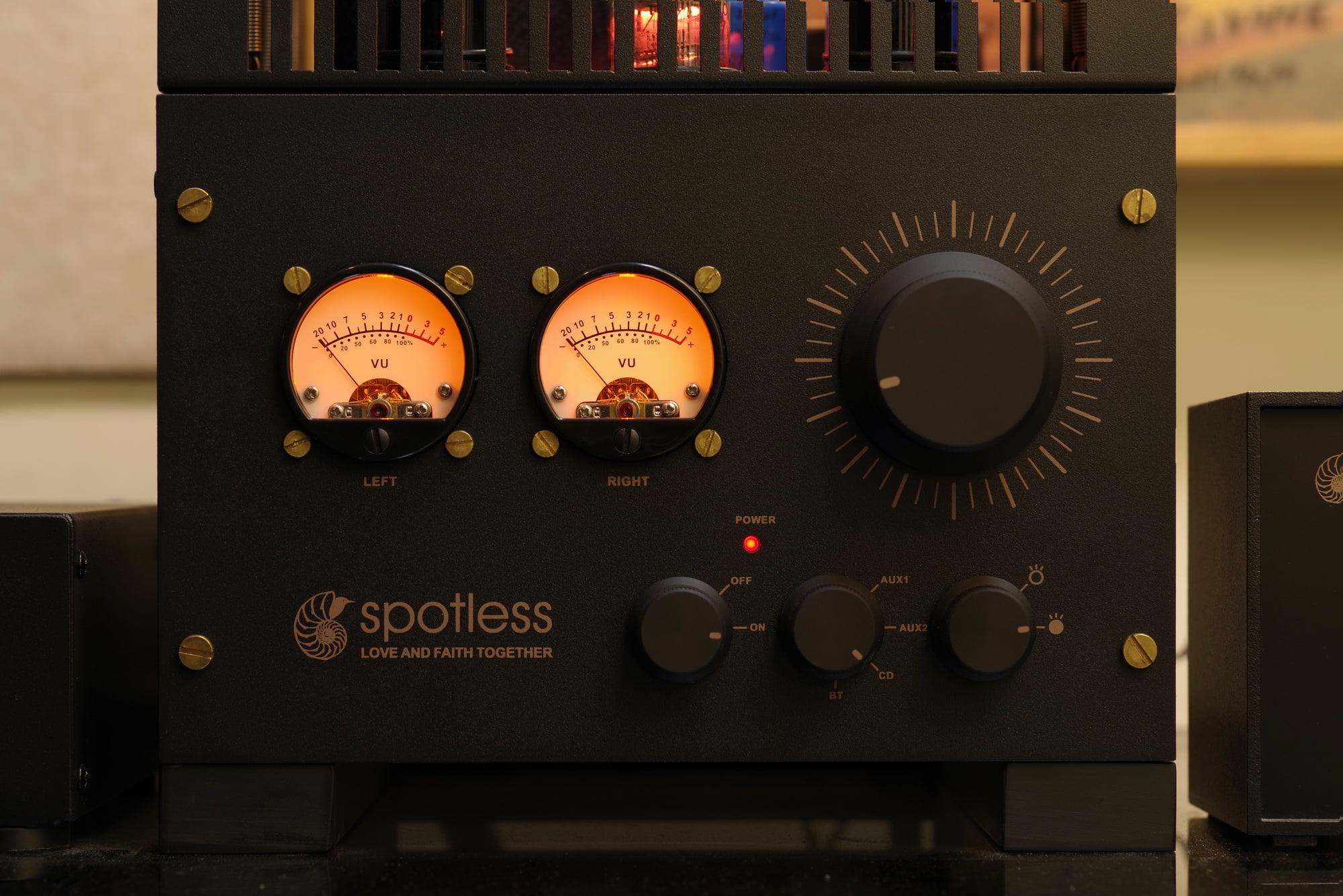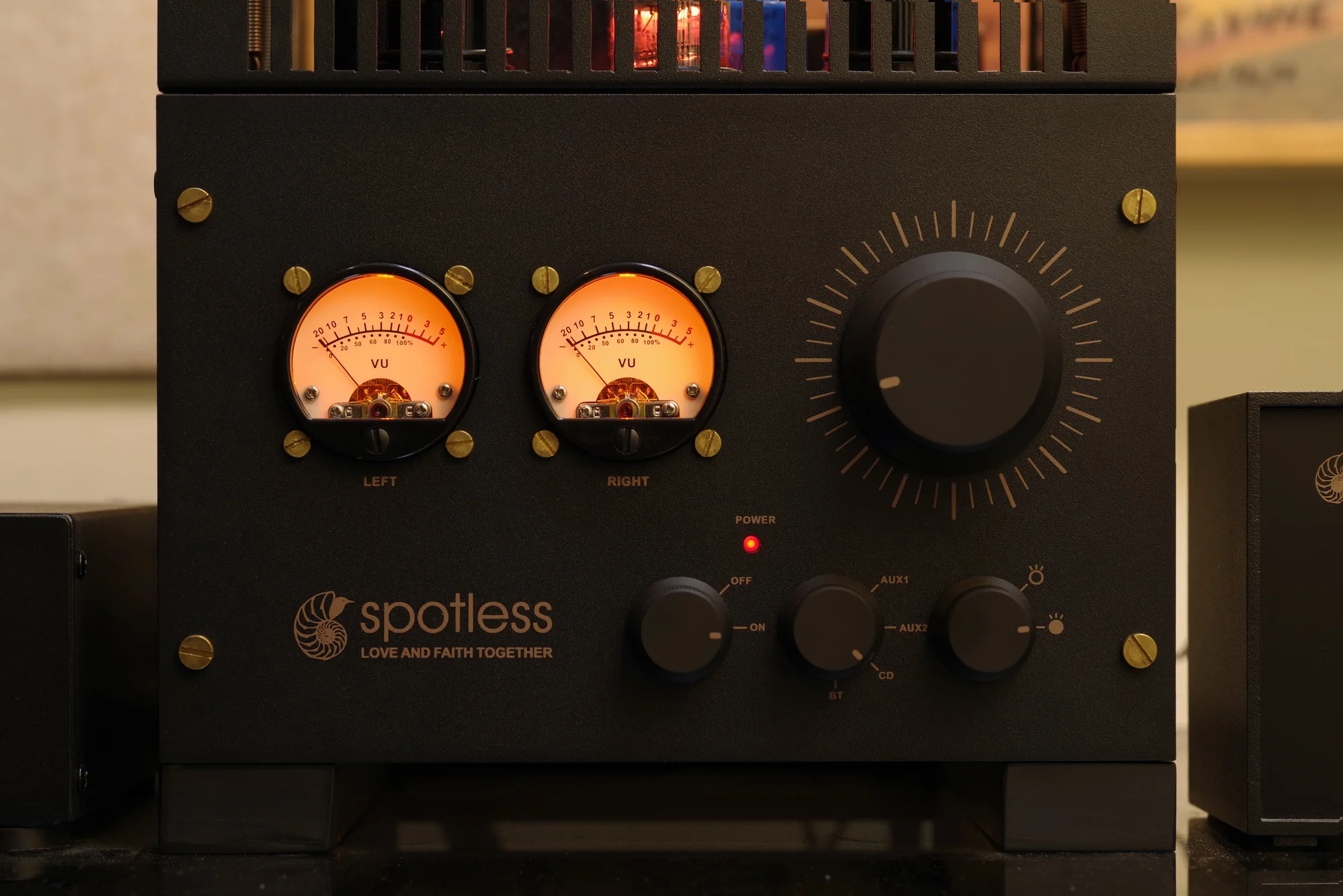 Fully manual discrete components.
Preamp & power amp independent power supply solution.
Spotless A1 preamp uses 6N8P 6P6P electronic tubes for a two-stage amplification and a feedback-free design. The power supply is in the form of tube parallel voltage regulation. Give full play to the feedback-free form of the circuit sound effect with vivid and natural features.
The power supply part uses the characteristic UI-type transformer. Sound balance and warm, so that the sound is more infectious!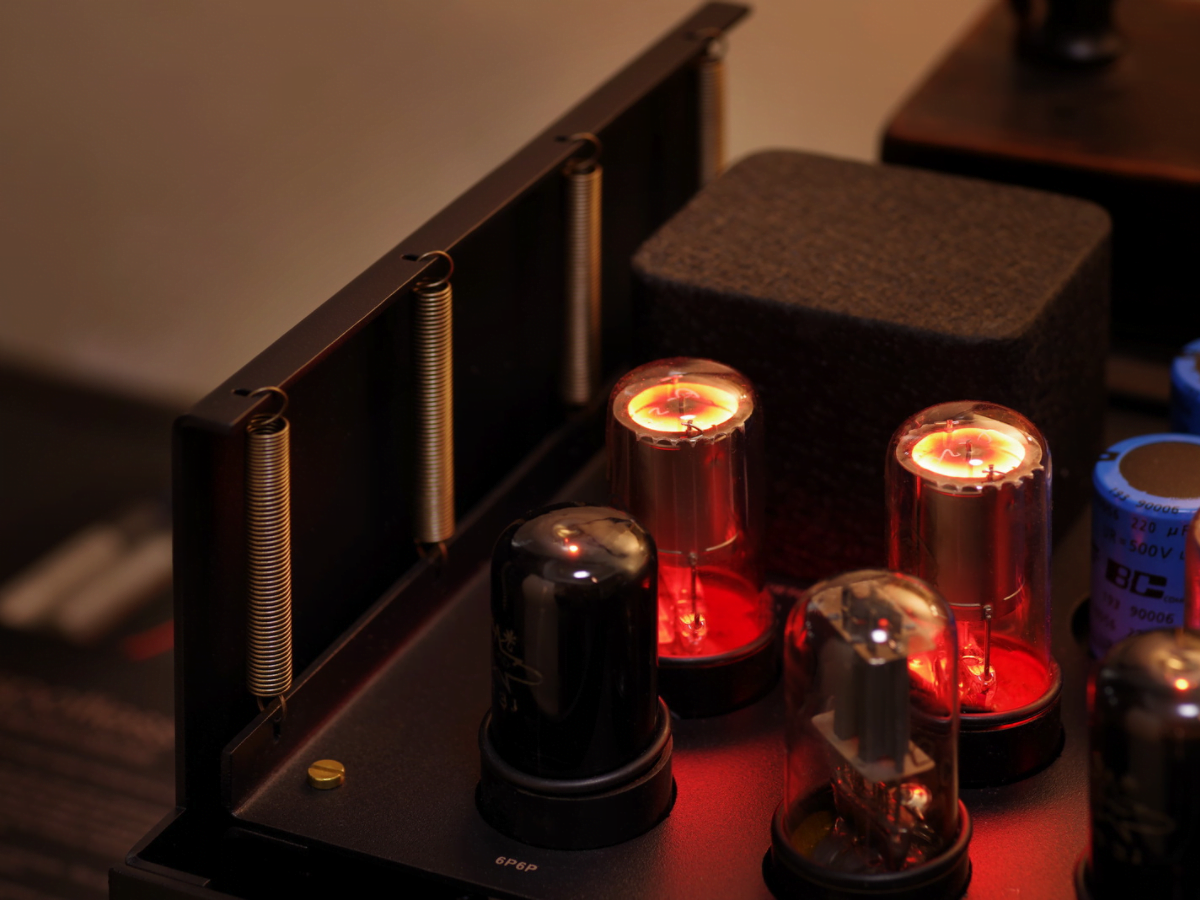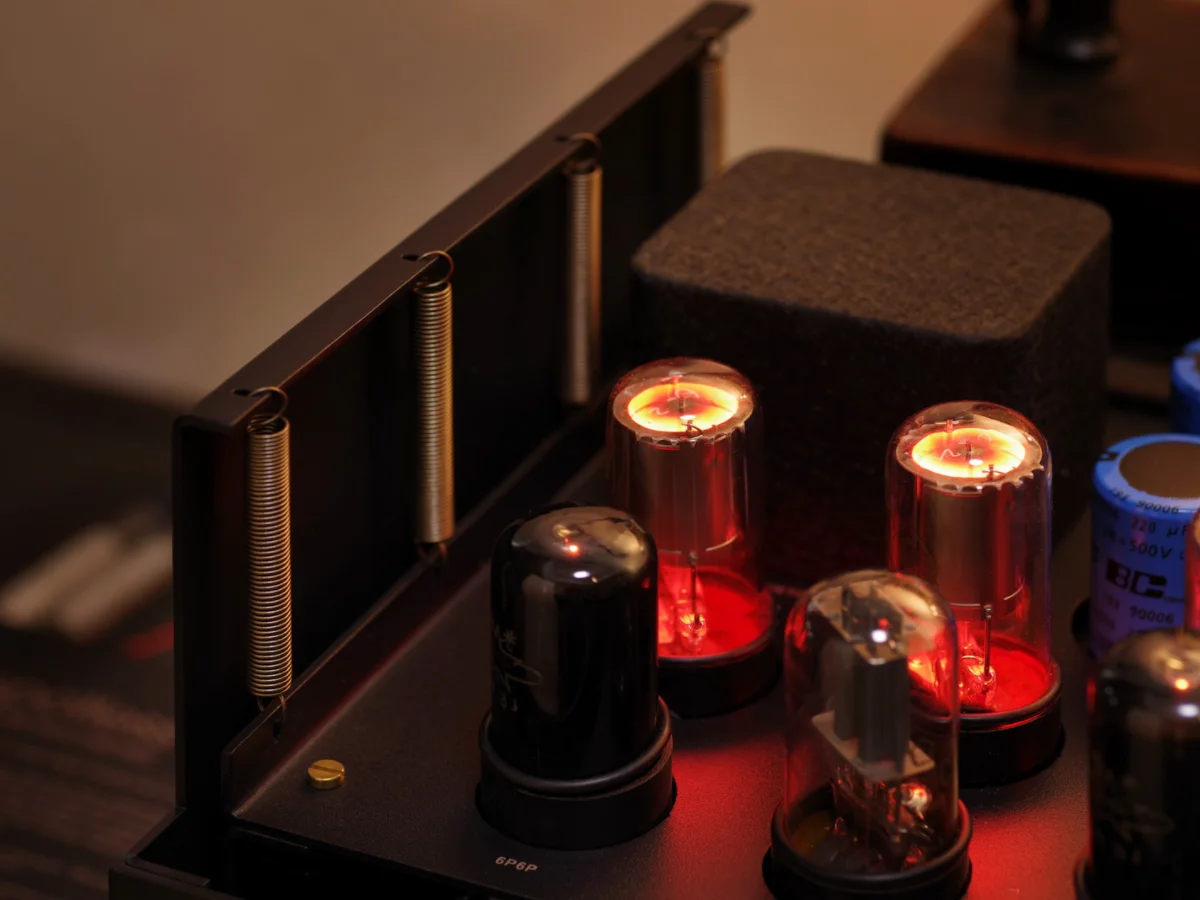 Original preamp suspension system to reduce physical and sonic vibrations.
Spotless A1 integrated tube amp suspension system follows the principle of sound isolation suspension. The top preamp part is a suspension layer to reduce the external vibrations. In the sound isolation suspension system, the preamp and space slight vibration and acoustic vibration isolation so that the preamp work will not be affected by excess vibration brought about by standing waves. The sound's clarity and accuracy are guaranteed.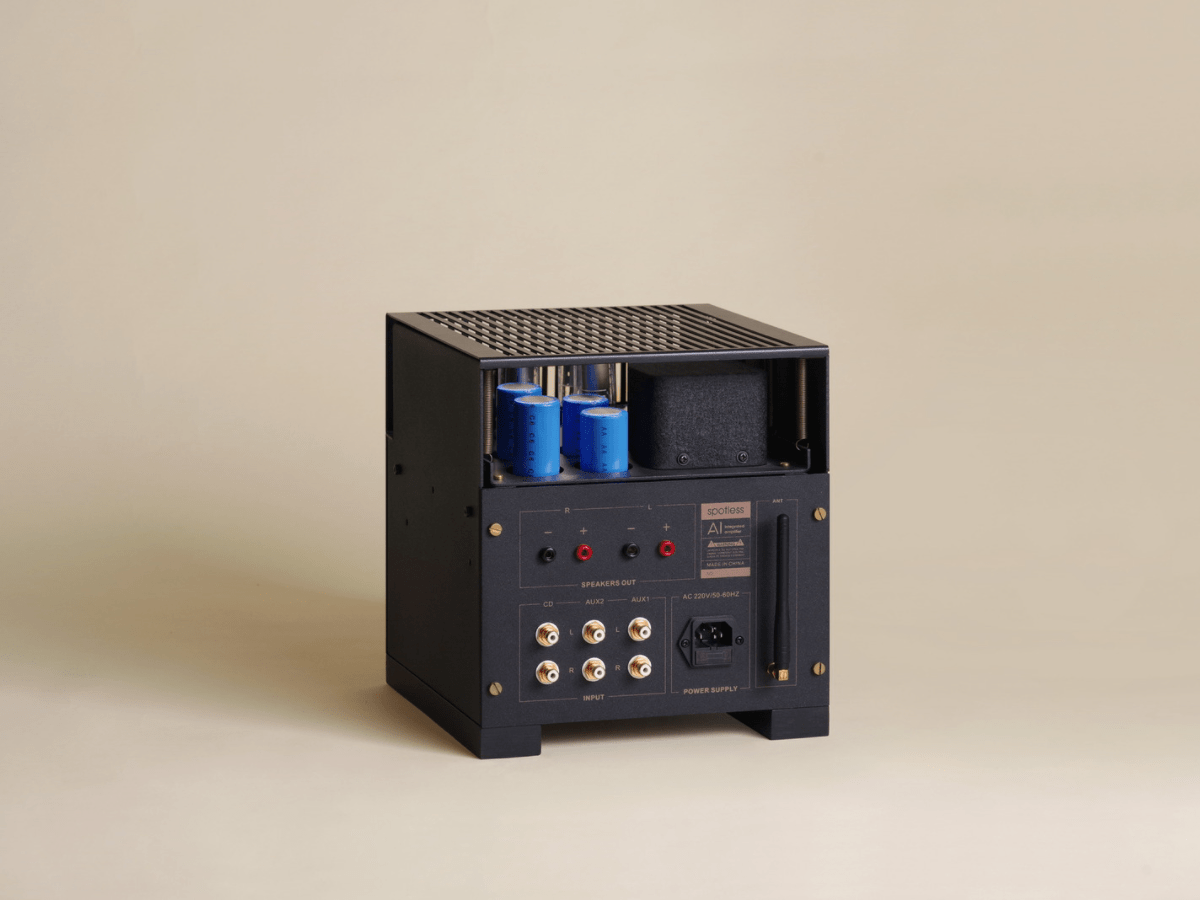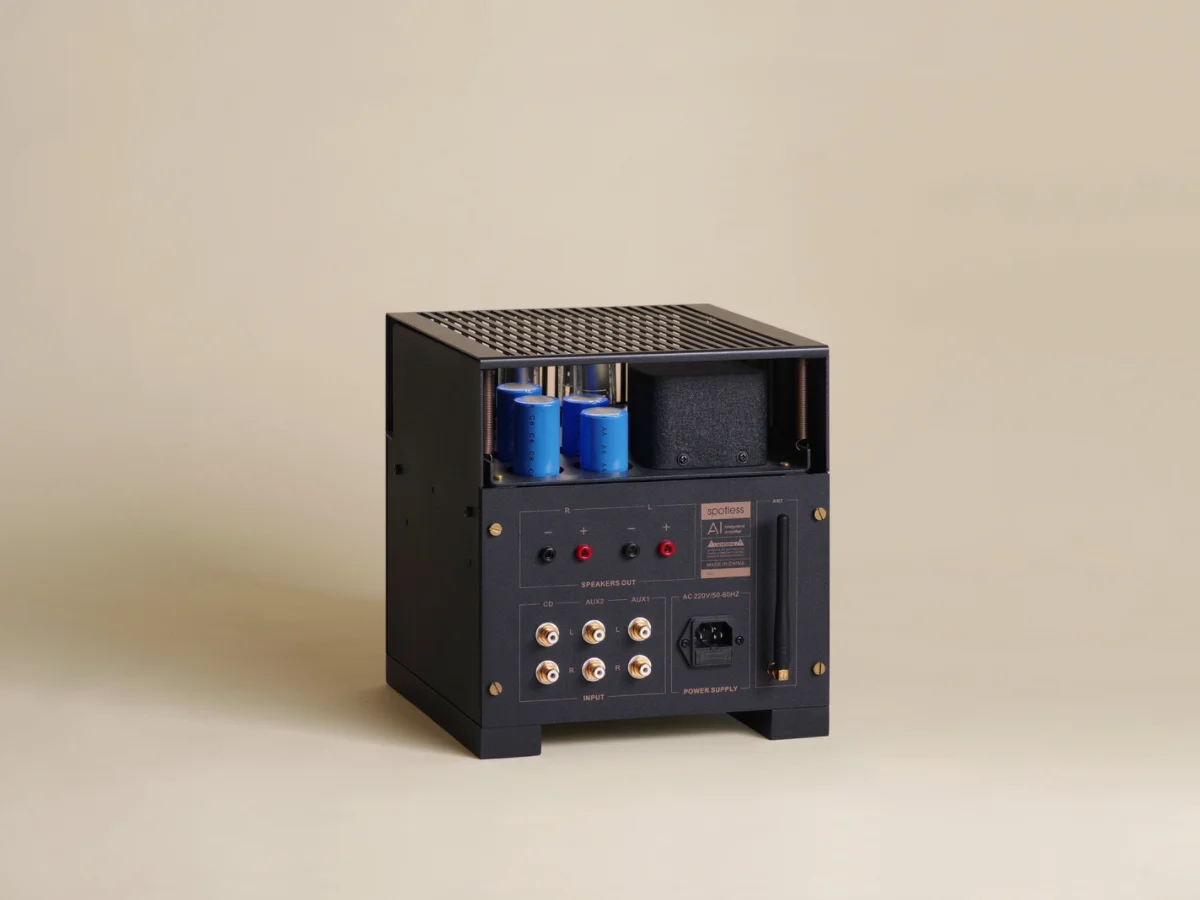 Bluetooth 5.1 APTX-HD LDAC,
CD-class sound quality of pure wireless sound.
Spotless A1 vintage tube amp uses the latest Bluetooth 5.1 chip. Faster transmission speed, stronger signal, more stable connection, and lower power consumption.
Bluetooth decoding support protocols: LDAC, APTX-HD, APTX-LL, APTX, SBC, AAC.
Spotless' Al applies Bluetooth receiver audio technology with APTX-HD, supports LDAC protocol, and supports up to 24-bit/96khz, allowing us to listen to music with better sound quality even with wireless devices. Enjoy the pure wireless sound of CD-quality audio anywhere, anytime.
Bluetooth mode comes with QCC5125 + ESS9018 featured decoder to improve sound quality and analysis for better noise suppression. Make the sound more transparent and smoother. When listening to music, you will feel the strong flavor of the vacuum tube analog.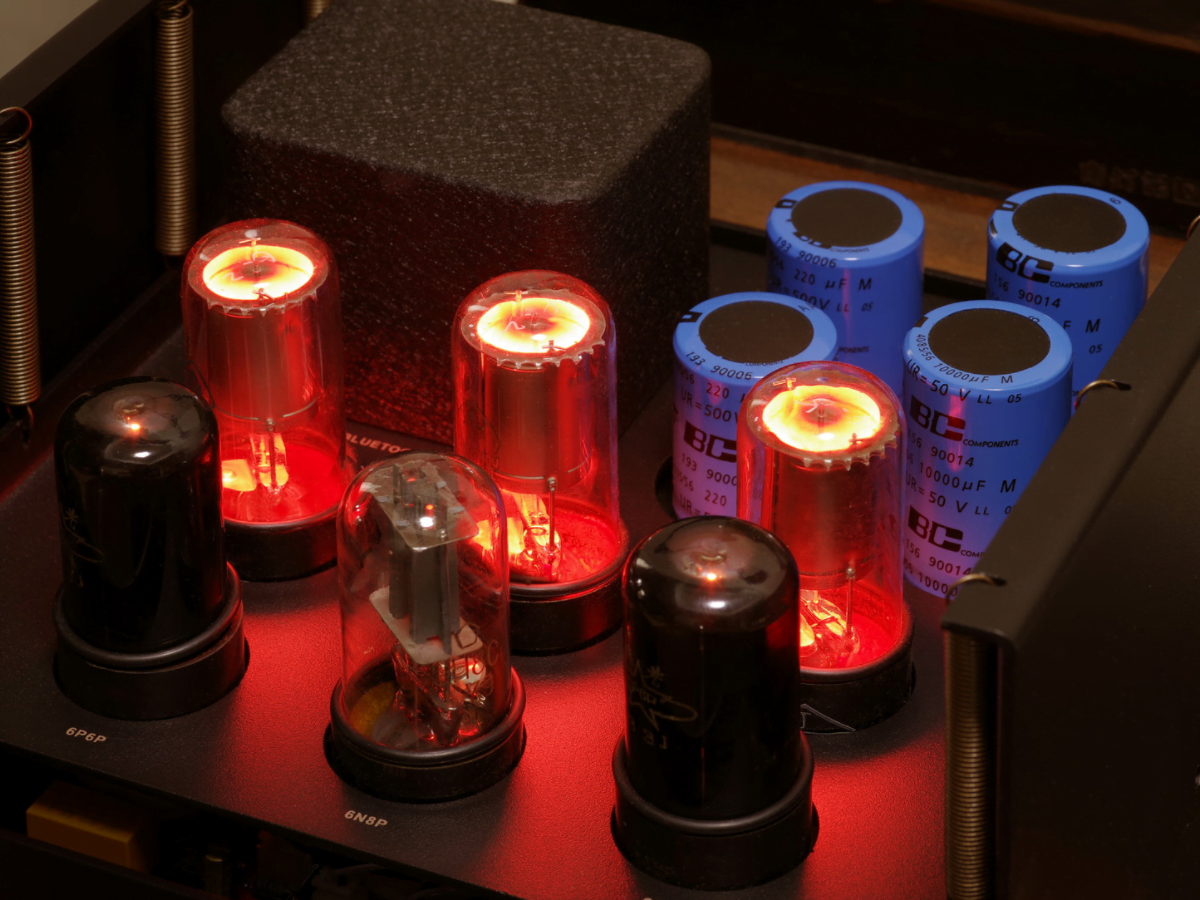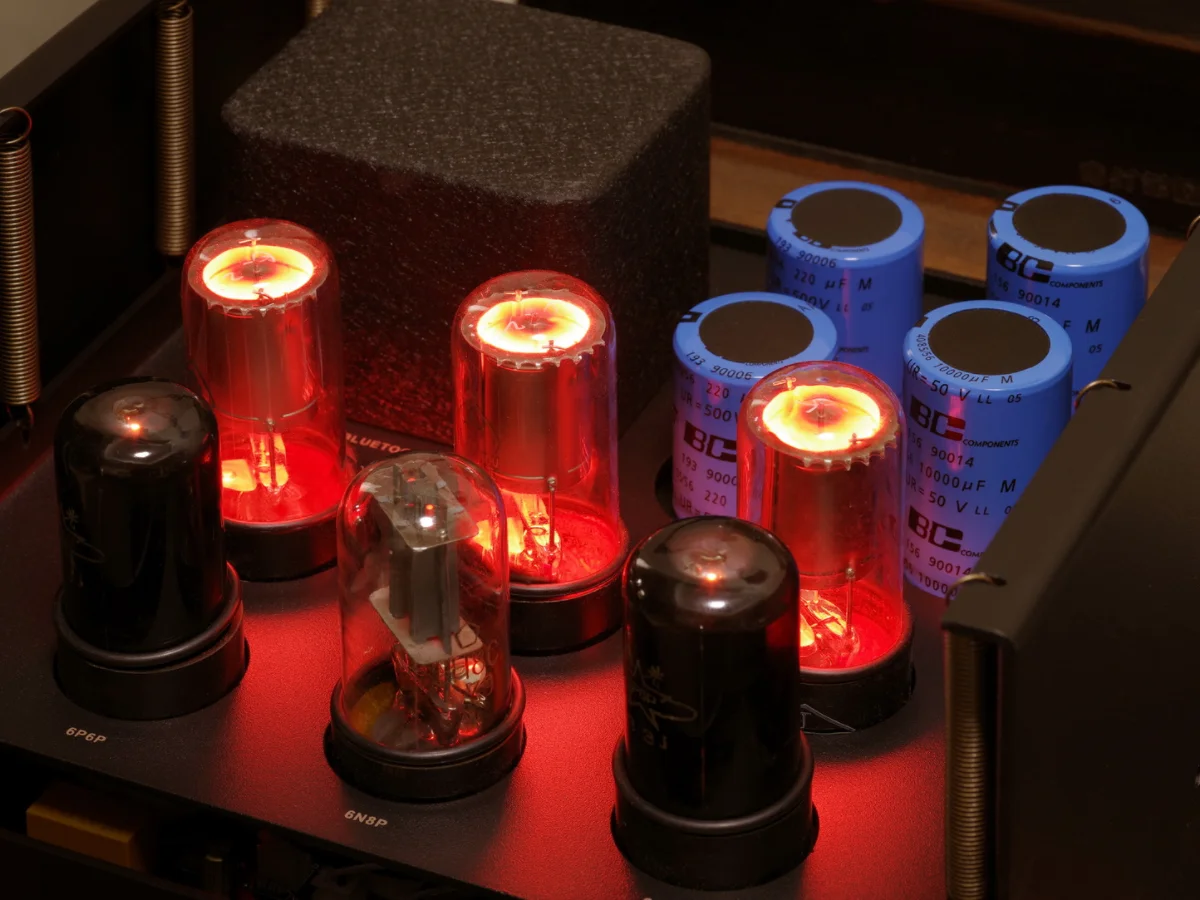 Wisdom makes the design steady.
The design makes the sound graceful.
The A1 class AB tube amplifier is powered by an independent power transformer, Philips filter capacitors, and three WY3P tubes to form a parallel voltage regulator circuit, which provides a stable power supply.
The amplification part uses 6NSP and two 6P6P tubes, with selected high current design discrete post-stage circuit components. Sound performance is balanced, smooth, and dynamic with a broad field.
Spotless A1 is mid-to-high-end stereo music listening tube amplifier. It's designed for bookshelf speakers or 8"-12″ relatively neutral speakers to strengthen the dynamic and thick sound bottom to make the music more smooth, natural, and steady!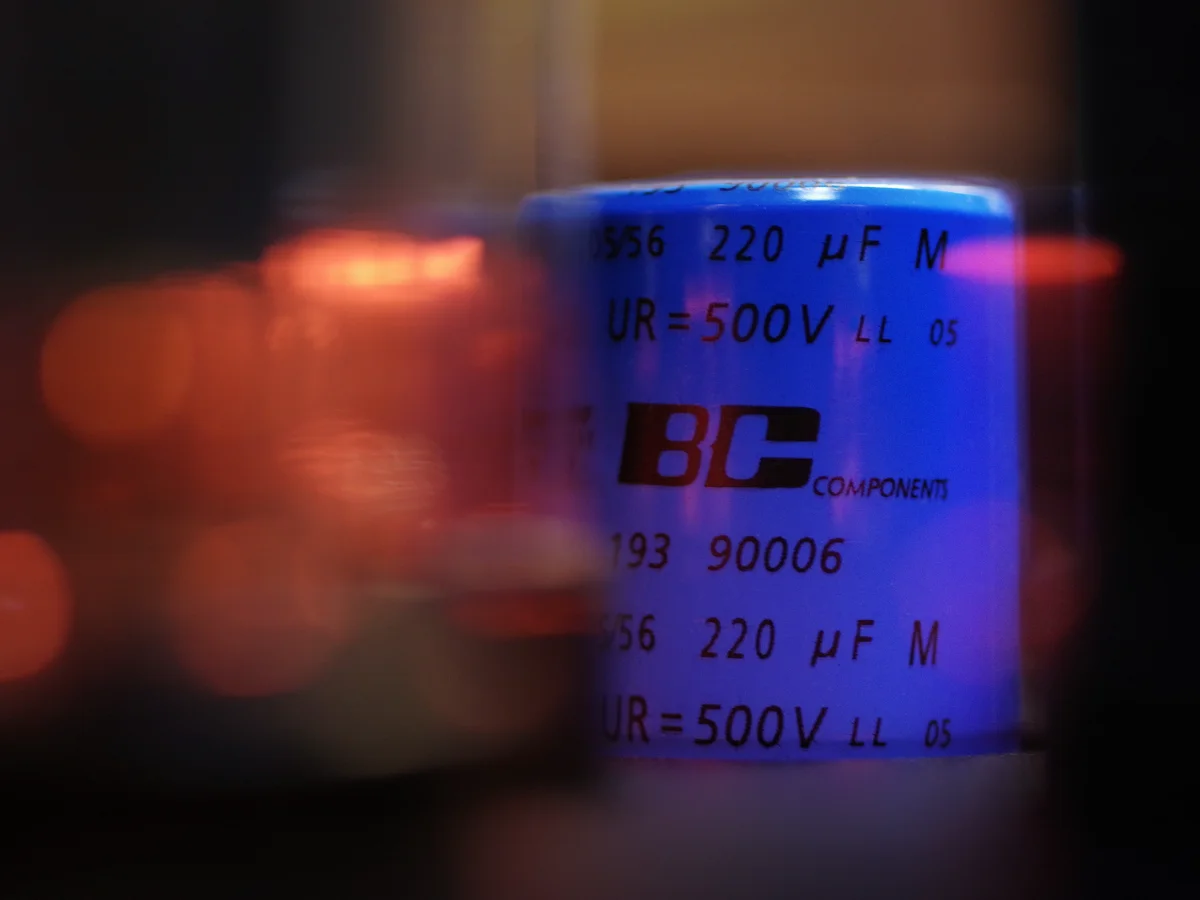 No compromise, adapt to reality with action.
The development of the Spotless A1 amplifier was a long journey. Its bold and innovative appearance and complex structure have undergone numerous modifications to the design, process, painting, wiring comparison, and verification.
The chassis shell uses a unique steel plate precision laser-cutting process, including more than twenty kinds of screws, custom solid aluminum knobs, dual-channel level meter head, three groups of RCA input, and a set of Bluetooth input.
No detail has been compromised in presenting the original Spotless family lineage.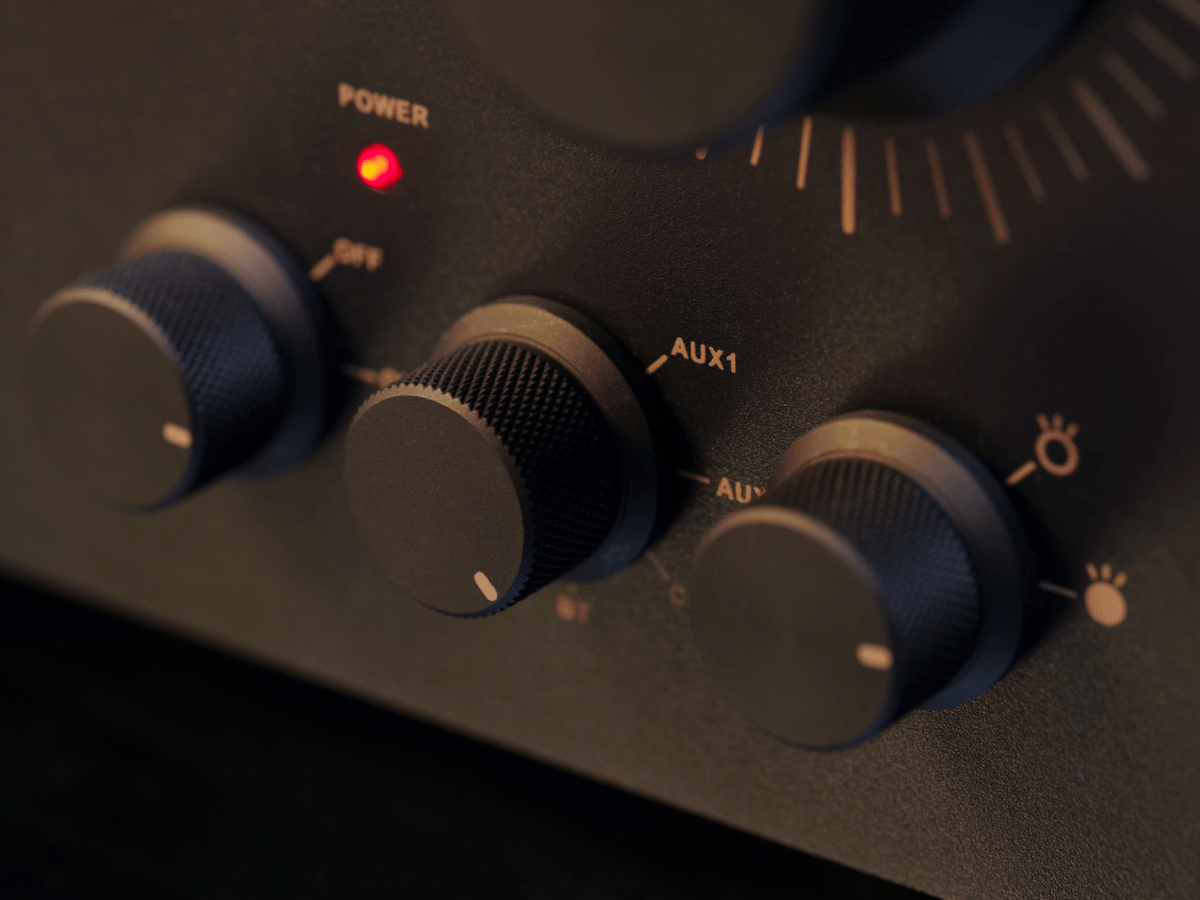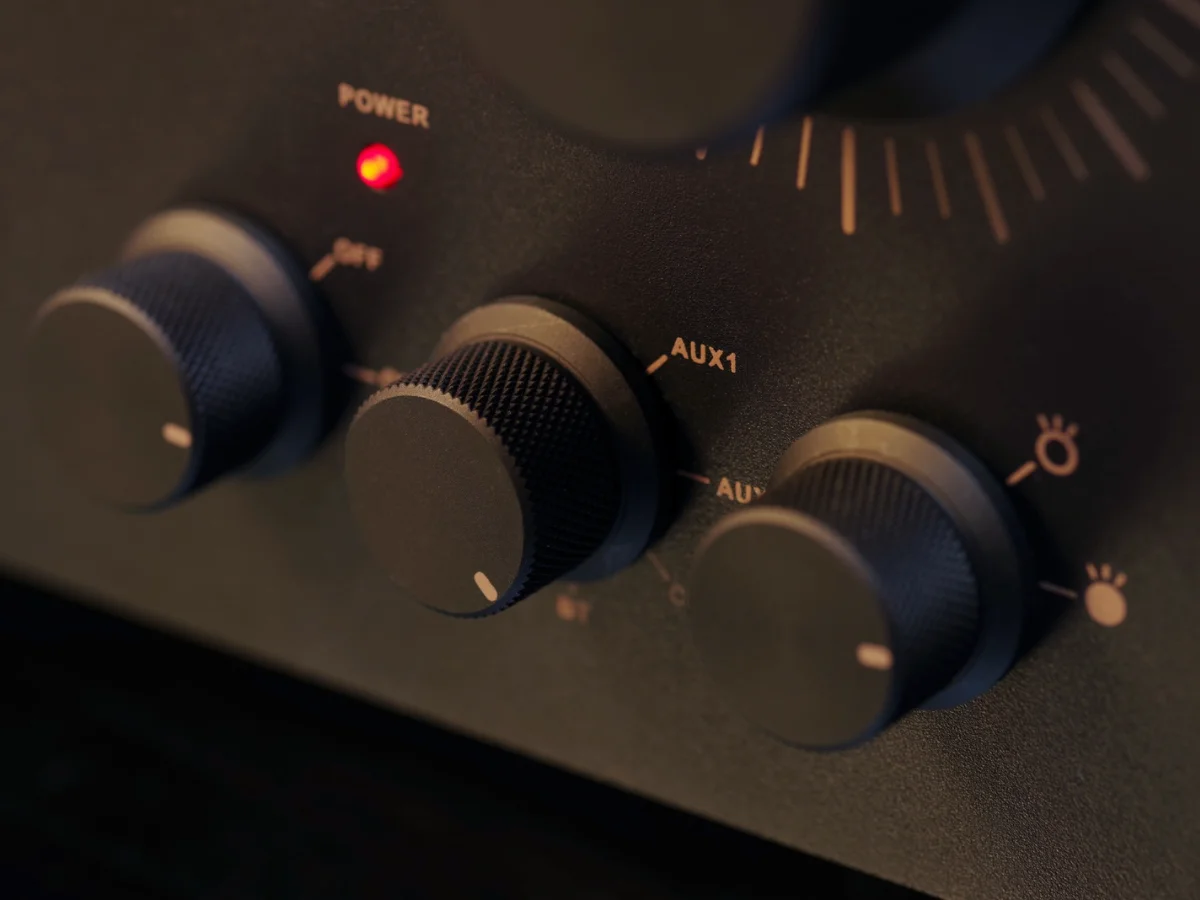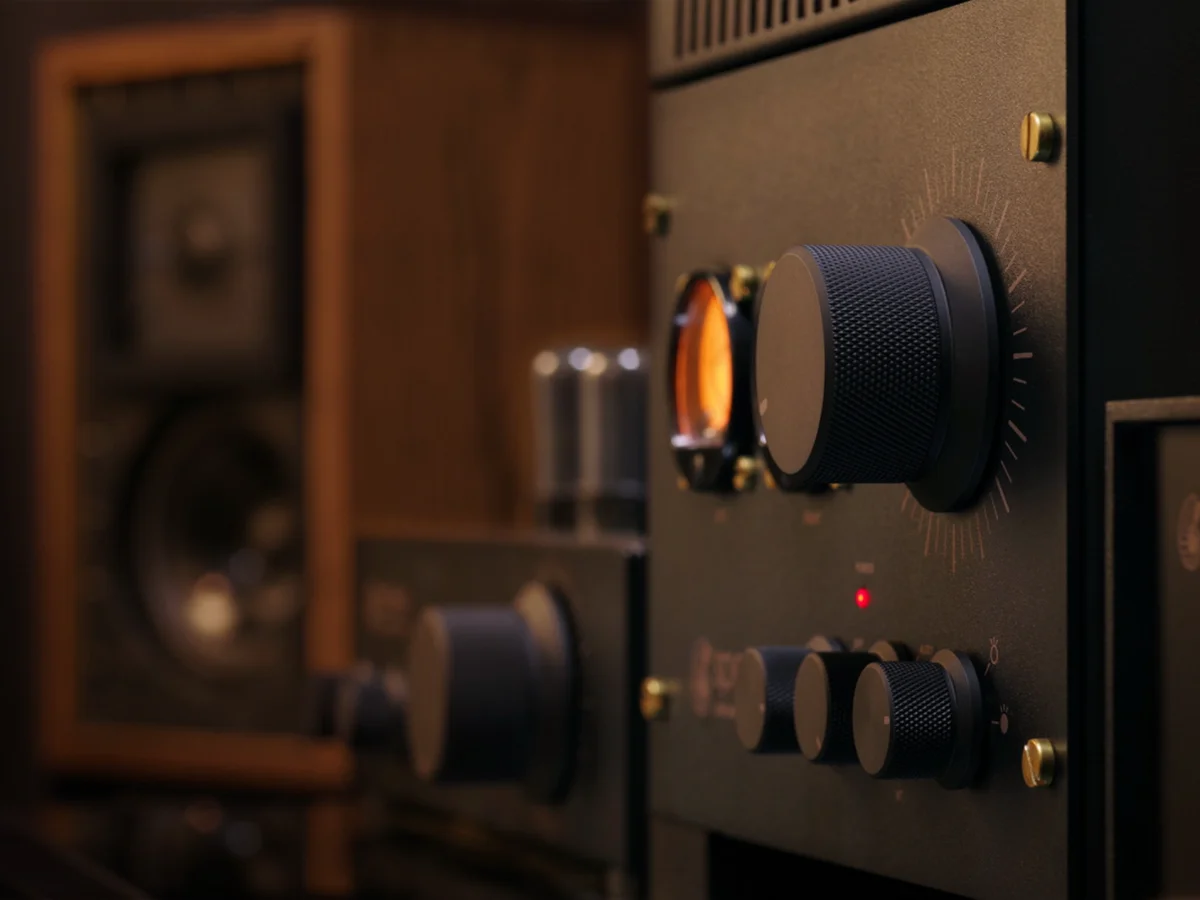 Output Power
2 x 100 watts
Power Supply
110V, 50Hz
220V, 50Hz
Audio Input
RCA *3
Bluetooth 5.1 *1
Frequency Response
20~20 KHz
THD
<1% / 1w 1kHz
Output Impedance
4~8 OHM
Input Sensitivity
350mV
Dimensions:
230*230*250 mm
Weight:
13.75 KGS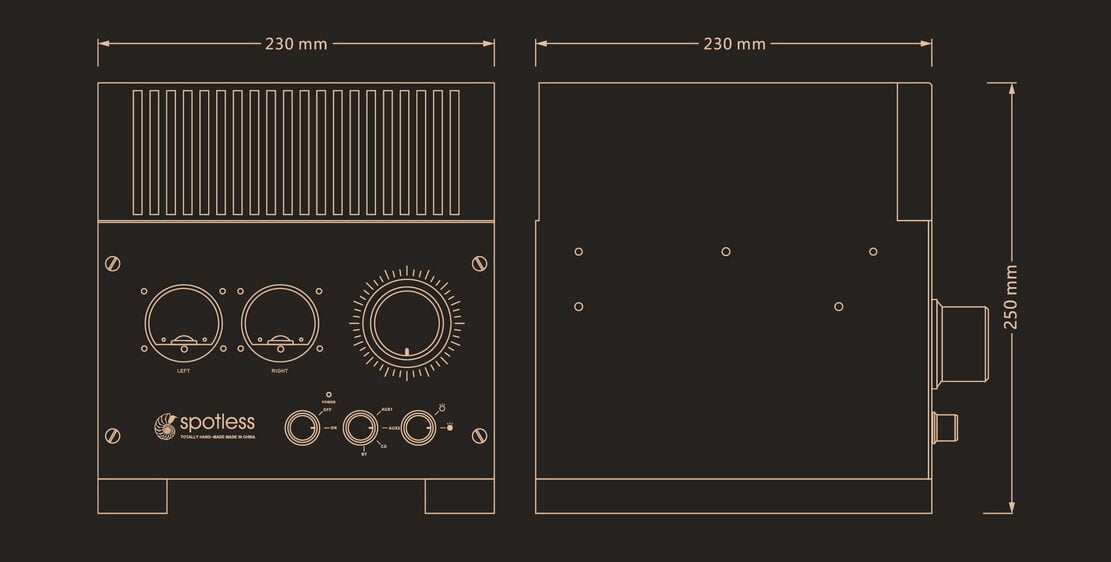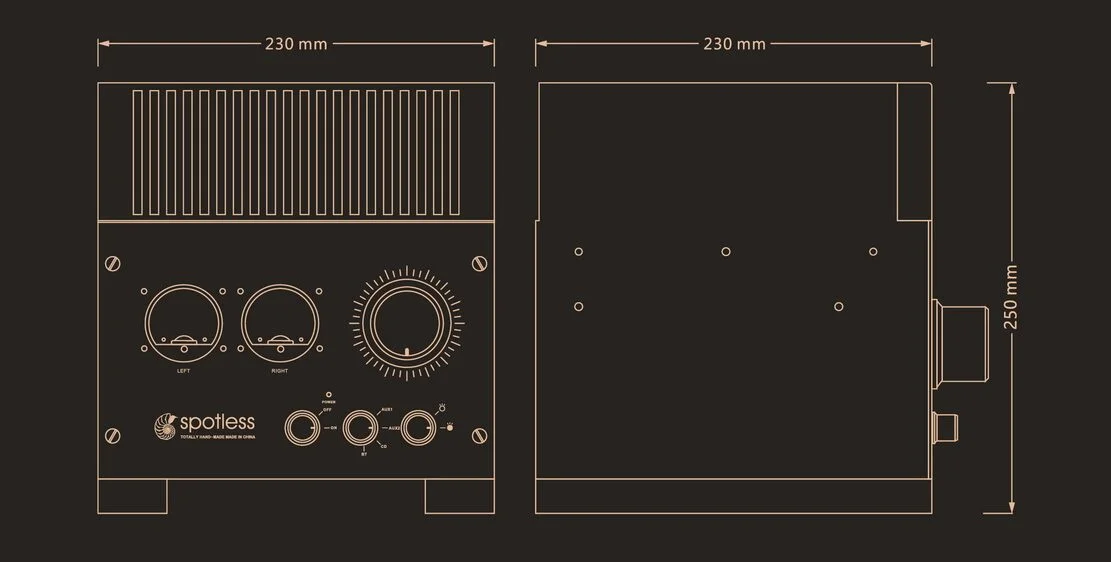 Contents
Amplifier *1
Tubes *6
Power Cord *2
Grid *1
Driver *1
Antenna *1
Manual *1