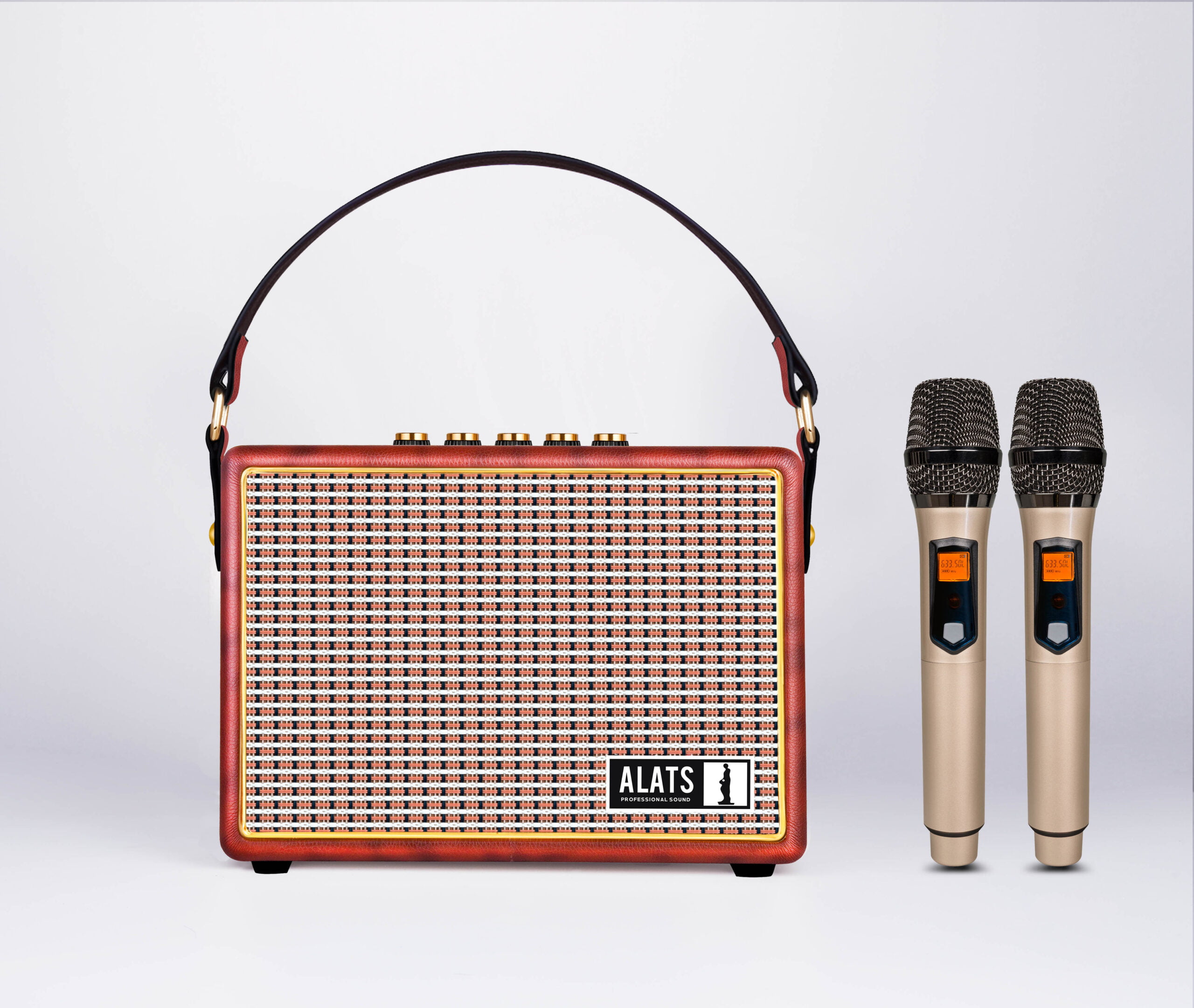 Alats 55W Karaoke Bluetooth Speaker with Microphone
0 Import Duty
we deliver duty paid  (DDP) to certain countries
Big Discount Available
discount price up to 50% off
In Stock
off-the-shelf products to ensure fast shipping
Dropshipping
we blind drop ship to save your time and costs
What's New
GHD-100 Singing Machine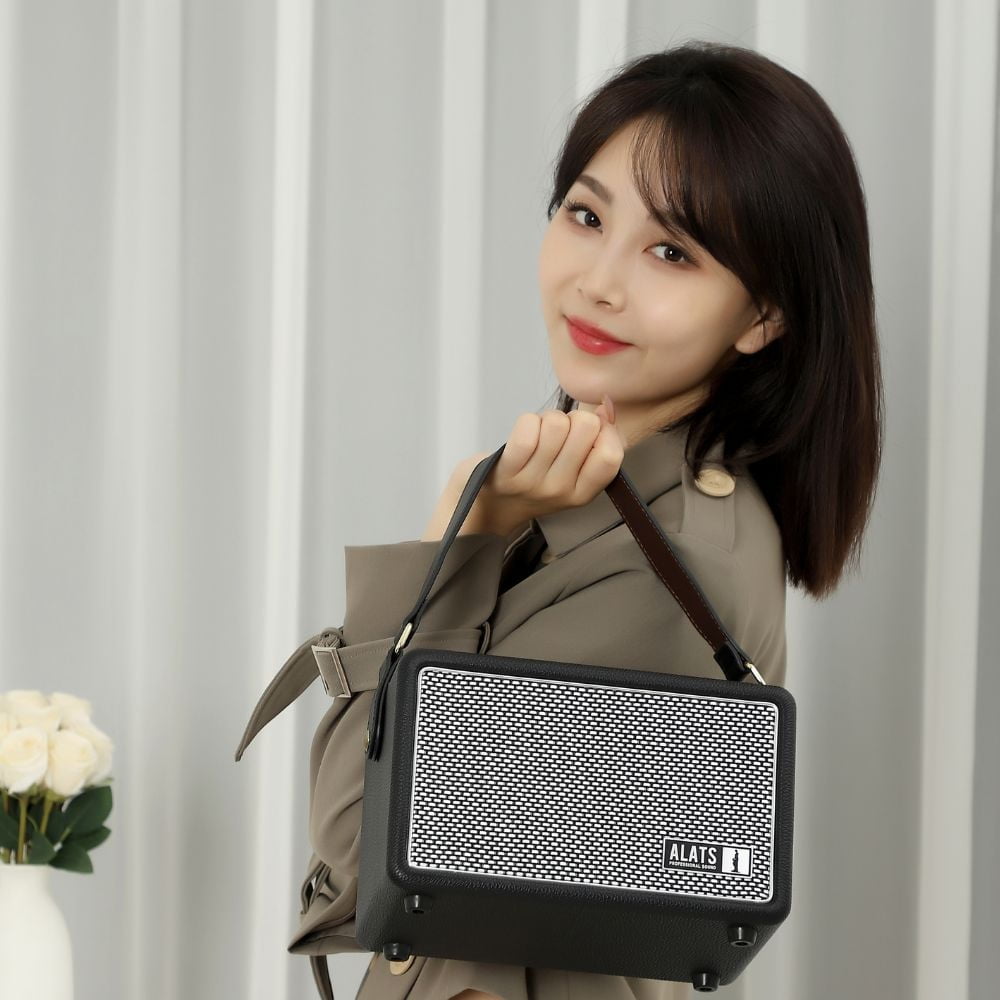 Alats Audio
Portable Karaoke Speakers
The karaoke speaker machine is equipped with two microphones.

 
Alats karaoke speaker machine makes it easy to give speeches in a meeting, no matter where you are.
The karaoke speaker machine has two wireless microphones, one for you and one for your audience.
The wireless microphones are powered by rechargeable batteries.
The karaoke speaker system packs big sound and lots of fun into a little package.
The best way to take your karaoke game from the living room to the outdoors.
This portable Bluetooth karaoke speaker machine is loud enough to get everyone up and dancing, but small enough to easily carry around.
It comes with a faux leather strap for easy carrying – perfect for kids and adults.
Alats karaoke speaker system is versatile.
It's one of your best karaoke speaker system choices because it comes with everything you need: built-in radio and Bluetooth.
It supports easy connection via USB and AUX input. Moreover, the karaoke speaker system has an electric guitar input, so you can get the full jam band experience!
The built-in rechargeable lithium battery allows you to play music continuously for more than 12 hours with medium volume.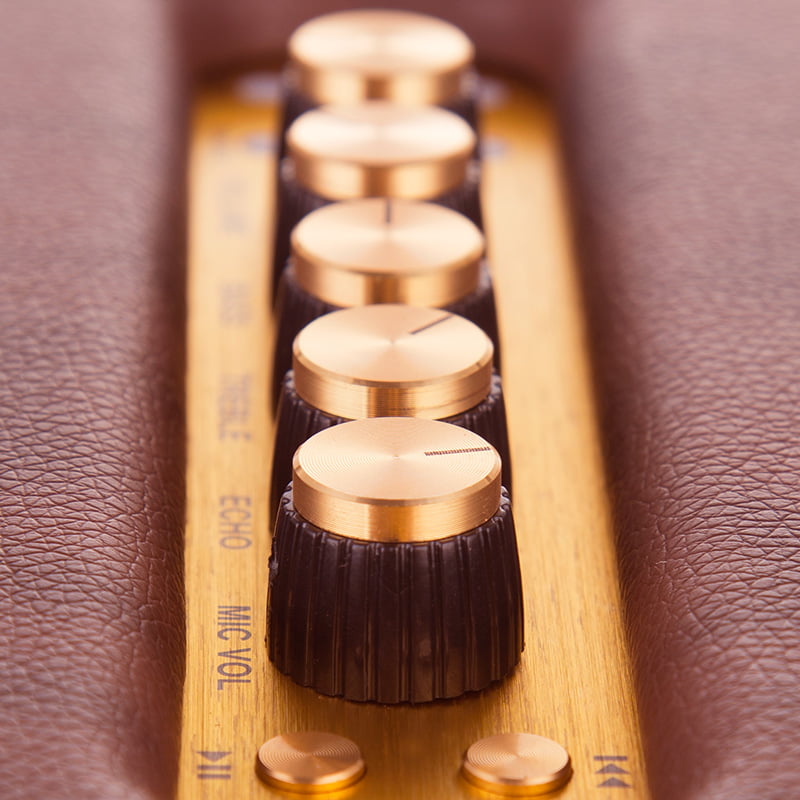 Colors & Materials
Color: Black, White, Brown
Material: Wooden Cabinet and Faux Leather
System Type
Two-way Reverse Phase System
Audio Sources & Connectivity
Bluetooth
USB
3.5mm jack (AUX)
Wireless Microphone
Electric Guitar
Radio
Power
55W
Power Supply:
AC Input: 110V-240V; DC Output: 18V 2A
Battery:
3000mAh
Audio Parameters
Mid-woofer Unit: 
5.25″ mid-low range *1
Tweeter Unit: 
20mm dome tweeter *2
Frequency: 
60Hz-20KHz ±3dB
Bass Adjustment: 
±3dB (60Hz-1KHz)
Treble Adjustment: 
±3dB (1KHz-20KHz)
SNR:
L/R: ≥90dB (A)
Dimensions:

 
265*194*155 mm | 10.4″*7.6″*6.1″
Weight:

 
3.6 KGS | 7.9 lbs
It packs…
GHD200 Karaoke Bluetooth Speaker *1
Power Adaptor *1
Wireless Microphone *2
AUX Cable *1
User Manuel *1
Quality Card *1
Private Label Service
Just like we can brand our name onto the product, we can brand your name onto it too.
We can also create a completely exclusive look for your product line.
Dropshipping
If you need to drop ship the Bluetooth karaoke speakers, we've got you covered! We can help with any volume of orders, and our fulfillment is reliable, fast, and accurate—plus, because we always have off-the-shelf products in stock, there's no waiting for you and your customers.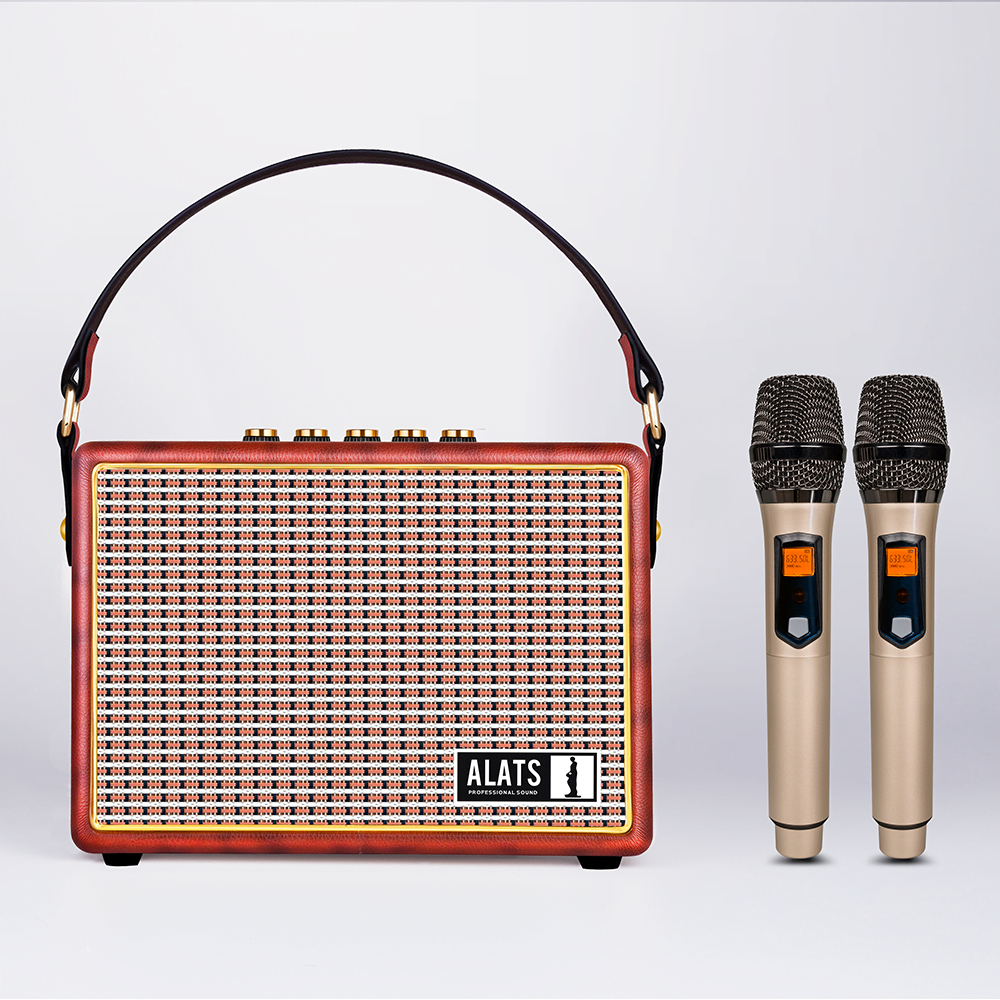 100W Alats® Karaoke Speaker with Wireless Microphone
6.5" mid-low range speaker unit *1
25 mm dome tweeter unit *2
6.35 wireless microphone *2
4800mAh built-in rechargeable battery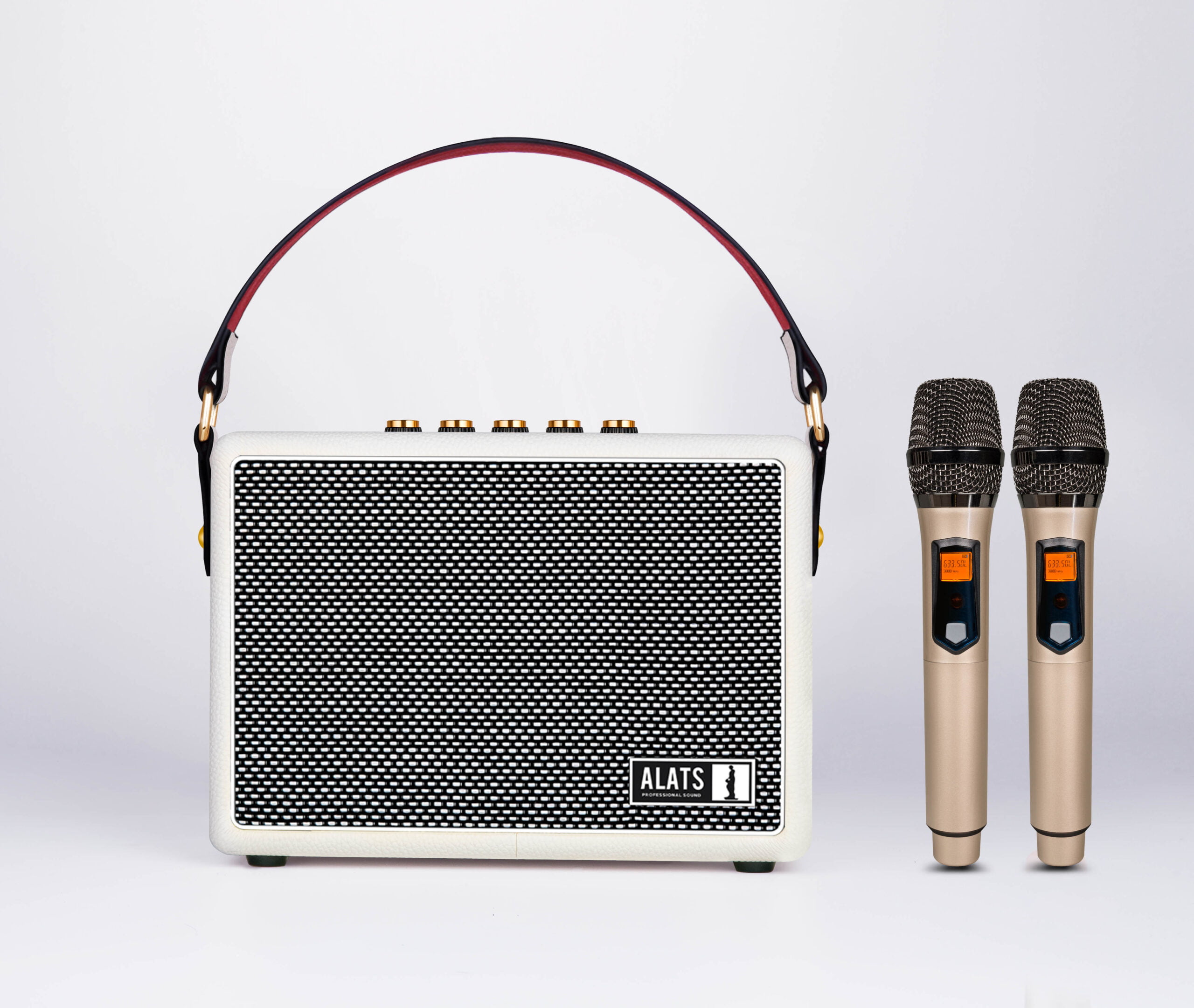 55W Alats® Karaoke Speaker with Wireless Microphone
Model: GHD-200
MSRP: USD219.00
5.25" mid-low range speaker unit *1
20 mm dome tweeter unit *2
3.5 wireless microphone *2
3000mAh built-in rechargeable battery
Our
Testimonials
What does our customer say about our products and service? Good sound quality and versatile
★
★
★
★
★
The cost-performance ratio is quite high, as it can be used for karaoke, has good sound quality, and looks nice. I am a teacher, and by connecting a USB headset, it can also be used as a teaching aid in class, much better than using a small bee (microphone). Highly recommended.
Cool design, impressive vocals.

!
★
★
★
★
★
Although I'm just an amateur, I spent a long time comparing various brands before finally choosing this one to bring home. The main reason was its cool appearance. As a picky person, I didn't have particularly high expectations for the sound quality, but upon receiving the product, I was completely blown away by how great the vocals sounded.
Excellent sound, versatile, karaoke-friendly!
★
★
★
★
★
Received my little treasure and couldn't wait to unbox and inspect it. The packaging was intact and the product matched the pictures, I really like it. I immediately tested the sound… and the result? The audio quality is excellent, with clear high and low frequencies, and no distortion at maximum volume. It's a fantastic retro-style speaker. I also tested it for karaoke, and the performance was impressive. The microphone didn't produce any screeching feedback, and the Bluetooth connections between the speaker, phone, and tablet were smooth. The wireless connection between the microphone and speaker was seamless as well. Now I can enjoy karaoke both indoors and outdoors with friends!